Springtime has returned. Baseball is back, green shoots are pushing through the dirt, and but for a freak snowstorm here and there we seem to be on the path to warmer weather. It's not quite rosé season yet, but that's not far off either.
Many of our favorite springtime red wines come from the Mas Foulaquier, an organic source in the northern Languedoc. Foulaquier's ethos fits perfectly with a springtime reawakening — with minimal intervention and no chemical treatments, their vineyards are gardens of life. Bees, rabbits, and wildflowers populate their rows of vines, and the wines they produce are similarly alive.
Today's offer is for their just-arrived 2015 "Petit Duc," a 100% grenache wine whose aromas burst from the glass unhindered by filtering or heavy sulfur. It's just the thing to accompany the new season's arrival.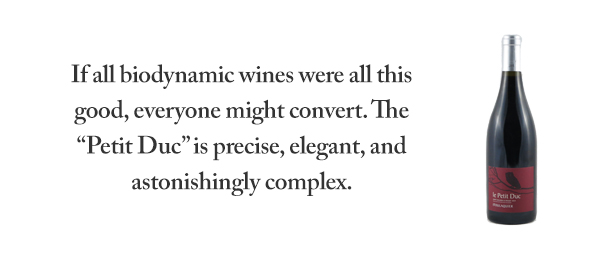 If all biodynamic wines were all this good, everyone might convert. Today's "Petit Duc" is precise, elegant, and astonishingly complex. The nose is bright and pure, with clear notes ranging from roasted cherries and cassis to lavender and bay leaf. The mouth is dense and smooth, with herbal honey notes joining distilled wild cherry.
Grenache usually appears in blends with syrah and other grapes. But this cuvée presents it alone and it more than holds its own. Tasted blind in might trick you into guessing an organic Pinot Noir. Pair it with fresh goat cheese, or anything Mediterranean.
We much enjoyed all the skiing we squeezed in this season, but we admit to some excitement that spring is here at last.
____________________________
Foulaquier Petit Duc 2015
Ansonia Retail: $40
6+ bottle price : $35/bot


FREE EAST COAST SHIPPING ON ANY 12 BOTTLES