We're looking forward to our trip to France next week. We will tasting with some exciting new prospects, and revisiting many of our old favorites. As the current three-month rail strike and "Easter Monday" holiday have reminded us, things move a bit slower in Europe. While it can be frustrating in matters of business, there's no doubt that the pace is healthier for the soul.
And however laid back the French may be about their work lives, the Italians have them beat. There's a certain ease to the Italian way of life — la dolce far niente, as they put it. Combine this with a Mediterranean diet and you get the fifth longest life expectancy in the world.
And as signs of Spring reappear and cooped up New Englanders reconnect with the natural world, we're feeling a bit Italian ourselves. So we're suggesting an everyday Chianti on a lazy Sunday afternoon — pair it with the joy of living and not paying taxes. (Ansonia Wines does not endorse tax evasion.)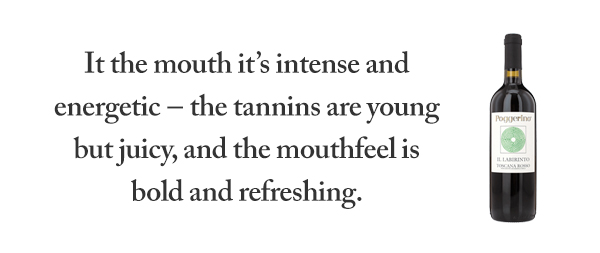 Last week we wrote about Poggerino's excellent Chianti Classico 2014, and the bottles we opened at the Depot yesterday held their own among Nuits-St-Georges and Châteauneuf-du-Pape. Today we're recommending Poggerino's simpler wine — Il Labirinto. It would qualify to be labeled Chianti Classico, but years ago the winemakers decided to bottle wine from their younger vines under a separate label.
The 2016 Labirinto offers many of the same pleasures as their Chianti Classico, but with less tannin, less complexity, and for a couple fewer bucks. In the nose it shows violets, cherries, cassis and some earth. The mouth is intense and energetic — the tannins are young but juicy, and the mouthfeel is bold and refreshing. Look for sour cherry jam and minerals.
As with the Chianti Classico, this is a perfect match for anything with pomodori. Once summer arrives, you'll want this for capreses and picnics. While there's still a chill in the air, pair it with a long-simmered bolognese or tomato sauce. Just make sure not to worry about it too much.
____________________________
Poggerino Labirinto 2016
Ansonia Retail: $24
6+ bottle price : $19/bot


FREE EAST COAST SHIPPING ON ANY 12 BOTTLES