Perched where the Loire river meets the windswept Atlantic coast, Muscadet has long been a source for a classic, dry white wine. Served by the carafe in the oyster bars of Paris and London for decades, it's refreshing, abundant, and inexpensive — a perfect glass to wash down a plate of crustaceans.
In recent years Muscadet has undergone a reinvention of sorts with the elevation of three of the region's best towns to a new "Cru Communal" status. Today's wine comes from Clisson, one of the leaders in the new wave of Musacdet. Combining excellent terroir with extended years on the lees, this wine is an unusually complex take on a classic.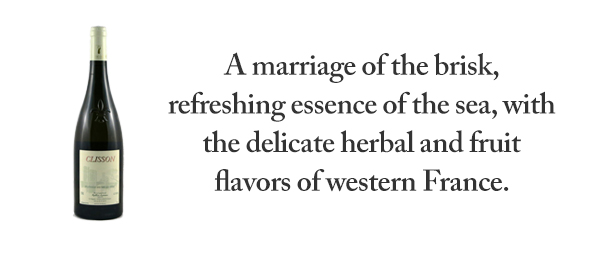 Last month winemaker Christophe Martin walked us through his vineyards, explaining the intricacies of each terroir. For anyone that still thinks of Muscadet as high volume plonk, a visit with Christophe (or a taste of his wine) will dispel the idea. These are carefully crafted, intense, delicious expressions of a limited terroir. A bottle of Muscadet may cost a buck or two more than it used to, but the jump in quality is several times.
Martin-Luneau's 2014 Clisson has just arrived in our warehouse, and it's delightful. It's a marriage of the brisk, refreshing essence of the sea with the delicate herbal and fruit flavors of western France. The nose is clean and pure, showing dried flowers, melons, and lemon. The mouth is smooth and very dry, with notes of stones, salt air, and apple skins.
Oysters are the longstanding pairing of choice with Muscadet, and the thick savoriness in this wine is an exceptional foil for the fresh brininess of an oyster. The winemakers themselves recommend serving this with a simple moules marinières, made with shallots, parsley, thyme, butter and, of course, Muscadet. With summer heat on the way, this is dry, tasty, and perfectly refreshing.
____________________________
Martin-Luneau Muscadet "Clisson" 2014
Ansonia Retail: $26
6+ bottle price : $22/bot


FREE EAST COAST SHIPPING ON ANY 12 BOTTLES