"Oaked" or "unoaked" sounds like a yes-no question, but it really is a range. Most of the wines we import spend some time in oak, but the strength of its influence depends on the age and size of the barrel, the chauffe (how heavily the inside is charred), and time in the barrel.
With this wine, it's simple: no oak at all. This classic, stony, energetic chablis is all freshness, minerality, and pure fruit. The Domaine Gautheron is a small, family-owned property, and we love their precise style. You could eat off the floor there, and the rigorous cleanliness extends to their wines as well.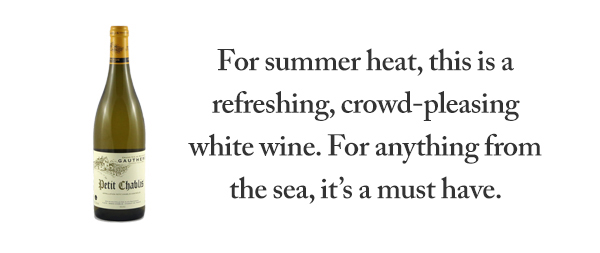 Cyril Gautheron is a rising star in Chablis. The Gautheron Family has made wine here for 200 years, but Cyril has taken the reins with great passion and has won critical acclaim from wine writers around the world. The Domaine's style is classique — little to no oak, bright notes of lemon and apple, and steely fresh minerality.
Gautheron's Petit Chablis 2016 has just arrived, and it's the perfect summer white. Look for notes of stones, lemon zest, and flowers, with brisk minerality and smooth, clean finish. For summer heat, this is a refreshing, crowd-pleasing white wine. For anything from the sea — steamed lobster, raw oysters, grilled swordfish — it's a must have.
____________________________
Gautheron Petit Chablis 2016
Ansonia Retail: $26
6+ bottle price : $22/bot


FREE EAST COAST SHIPPING ON ANY 12 BOTTLES