Rosé's popularity shows no signs of ebbing. We generally steer clear of winemaking fads, but even for us traditionalists it's hard to deny the tastiness of cool rosé under a warm sun. Our criteria for rosé are threefold: dry, inexpensive, and refreshing.
The provencal-style rosé from the Domaine les Goubert hits all three perfectly. Grown across the sun-drenched plain just east of Châteauneuf-du-Pape, Goubert's rosé is dry and delicious. If there's a beach or a roof deck or a backyard patio in your future this summer, this is almost as necessary as sunscreen.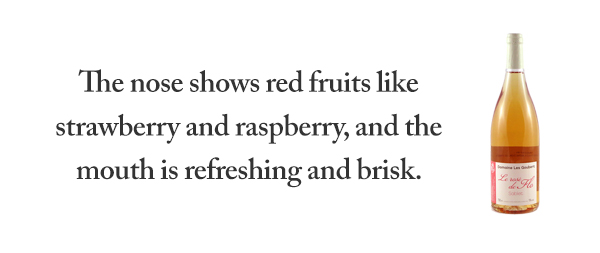 Rosé de Flo is the project of the Cartier family's thirtysomething daughter Florence, who is now handling much of the winemaking at Goubert. Her rosé is 100% saigné (literally, "bled") meaning it's made entirely from juice that runs off from grapes resting in the tank. This makes for a more subtle, elegant style, with increased floral notes and a crisper, less mouthfilling palate.
The 2017 Rosé de Flo is a blend of grenache, syrah, and mourvèdre — Florence traded Brun Argenté for Syrah this year, and the result is a fruitier, slightly clearer complexion. The nose shows red fruits like strawberry and raspberry, and the mouth is refreshing and brisk — look for notes of grapefruit zest and citrus.
Bone dry, with 13% alcohol and a delicate acidity, this wine is dangerously easy to sip. Open one with a salad, or goat cheese and tapenade on crusty bread, and you'll be transported to Provence.
____________________________
Goubert Rosé de Flo 2017
Ansonia Retail: $24
6+ bottle price : $19/bot


FREE EAST COAST SHIPPING ON ANY 12 BOTTLES