New winemakers in Burgundy are hard to come by. It's a tiny region, and between small harvests, ever increasing demand, and well-established importers, it can seem there's nothing new to discover.
But with a bit of research and a dash of persistence, we've still managed to find hidden gems. This Spring we discovered the Domaine Boursot, based in part on a recommendation from Vinous's Burgundy reviewer Neal Martin. Martin writes of a "foundation for a promising future," and describes Boursot's wines as "superb," "excellent," "very fine," and "worth seeking out."
Our tasting in April confirmed Martin's impressions: a domaine with excellent terroir and a passionate new generation taking over. It's just the recipe for a real find.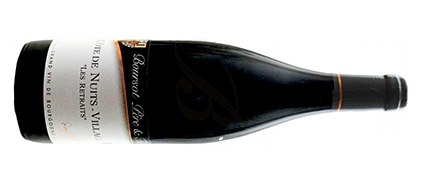 The Boursots began making wine in Chambolle-Musigny in 1550; for centuries, like many Burgundy domaines, they sold their entire production each year to the negociants of Beaune. In 1974 Remy Boursot began bottling on his own, and today it's his sons making the wines as the 15th generation.
Their three Chambolle-Musignys in stock are all excellent, but we were seriously impressed with their Côte de Nuits-Villages: a humbler wine from an extremely well-located plot. And we mean well-located: their vines are immediately on the other side of the wall from Chambolle royalty Frédy Mugnier's famous Nuits-St-Georges 1er cru "Clos de la Maréchale," (see photo).
Boursot's 2017 CDNV is an excellent entree to their gamme: the nose is dark and spicy, with classic Côte de Nuits cassis and hints of black pepper and toast. The mouth is punchy and juicy, with a crackling mouthfeel laid over lots of beefy extraction. And at $35 it will run you far less than the $100 stuff from the other side of the wall. Decant for 30-45 min.
____________________________
Boursot Côte de Nuits-Villages 2017
bottle price: $35



FREE EAST COAST SHIPPING ON ANY 12 BOTTLES