Chambolle Musigny is best known for its three famous terroirs: the Grand Crus Musigny and Bonnes-Mares, and Premier Cru Amoureuses. These three wines fetch prices north of $400/bot, and are among the jewels of many serious collectors' cellars.
But the undisputed fourth-best terroir in the town is Les Fuées, a premier cru immediately next to Grand Cru Bonnes-Mares. And it's here that today's wine originates. Our new Chambolle source the Domaine Boursot has remarkable 75+ year old vines in Fuées, and their wine is extraordinary. It doesn't come cheap, but greatness rarely does.

(We usually don't use the words "fourth-best" to sell readers on a wine, but this is Chambolle, so even 24th-best would be special.)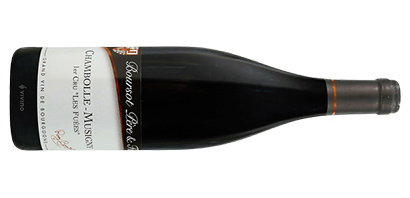 We discovered the Boursots via a note from Vinous's Burgundy reviewer Neal Martin, who writes of a "foundation for a promising future," and describes Boursot's wines as "superb," "excellent," "very fine," and "worth seeking out." The bottles we've opened recently confirm our initial impressions — this is an underrated domaine with terrific terroir.
Boursot's Fuées marries power and gracefulness in a way only a Chambolle vineyard can. The nose is dark and brooding, with cassis, violets, and gingerbread. The mouth is huge and intense — today it's bold and impressive; in a few years it will be refined, elegant, ethereal, and smooth.
Decant this for an hour and serve with duck breasts on a Sunday afternoon.
____________________________
Boursot Chambolle-Musigny 1er "Fuées" 2017
bottle price: $99



FREE EAST COAST SHIPPING ON ANY 12 BOTTLES