Of all the white Burgundy we import, none is a purer expression of Chardonnay than Nicolas Maillet's classic Maconnais cuvées. If the Côte d'Or offers Burgundies of pedigree and refinement, then the Maconnais offers Burgundies of vibrancy and joy.
Maillet takes this idea one step further with biodynamics, vinifying his wines with only indigenous yeasts and a slow, months-long fermentation. The resulting wines show extraordinary complexity and purity. Fruit and flowers dominate the palate, with gorgeous texture and long, supple mouthfeels.
Three new Maillet cuvées arrive in our warehouse today: 2018 Villages, 2017 Verzé, and 2016 Pouilly-Fuissé. All are excellent, but today we're focusing on the Verzé.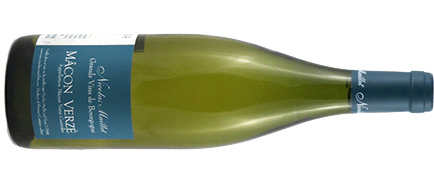 Maillet's 2017 Macon-Verzé took an astonishing ten months to finish fermentation. Most other winemakers (including his professional oenolog) would have pitched yeast, warmed the tanks, or otherwise catalyzed the fermentation — not Nicolas Maillet. "This one's taking its time," he told us calmly when we visited mid-fermentation. "It will get there when it gets there."
We're pleased to report that Maillet was right, and the resulting cuvée among the best he's made. It's simply gorgeous unoaked Chardonnay: white flowers and green tea in the nose, with tangerine, pear, and honey in the mouth. The Wine Advocate's William Kelley awarded 90 points, calling it "satiny and tensile," with "a ripe core of fruit."
Drink this pure, golden white Burgundy with on its own or with appetizers — it's a scene stealer in just about any context.
____________________________
Maillet Macon-Verzé 2017
bottle price: $28



FREE EAST COAST SHIPPING ON ANY 12 BOTTLES