Maranges is the Côte d'Or's forgotten appellation. In the past it was known for its unrefined, tannic wines — Burgundians used to call it "le medecin" (the doctor) because some secretly blended it into thinner Côte d'Or reds to bulk up weak vintages.
But today its reputation needs revision. Advances in winemaking and warmer summers mean that Maranges now produces wines of real character and complexity. They never reach the depth or elegance of reds from Volnay or Pommard, but they offer early enjoyment and pleasant, hearty textures.
Roger Belland's Maranges 1er cru "Clos Roussot" 2018 is the best Maranges we've ever had. Belland's excellent lineup of 2018 reds will be in next Sunday's July Futures release, but we're opening up the bidding early on this one.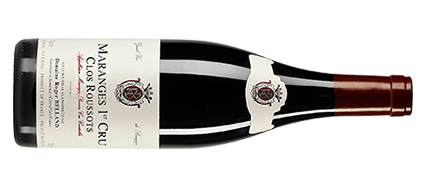 The July Futures wines are set to arrive in the fall, and will also include our two Beaujolais sources, Monnet and Perrachon. Belland's 2018 Maranges may be a different grape (Pinot Noir rather than Gamay), but it borrows a bit of the Beaujolais's jubilant spirit — think red Burgundy with the soul of a Cru Beaujolais.
The 2018 vintage delivered unprecedented heat and sun in Burgundy, and the resulting wines are full of both ripeness and muscle. Our fears of flabby, overripe fruit-bombs were unfounded — these are wines boasting sturdy foundations and solid structures.
Belland's 2018 Maranges blew us away during our sample tasting last month. The nose is cool and dark, with plum and spice in the nose; the mouth is dark, intense, and full, with punchy young tannins and lots of stuffing.
We've reserved some of this wine, but Belland's quantities are limited. Orders will be first come, first served. If there's any left we'll include it in next Sunday's July Futures release.
____________________________
Belland Maranges 1er "Clos Roussot" 2018

Ansonia Retail: $432
FUTURES: $375/case
Email Tom to reserve this wine.


AVAILABLE BY THE CASE AND HALF-CASE