After years of searching, we at last found a source for Chambolle-Musigny last spring. With a stellar reputation and miniscule size, it hasn't been easy to find a domaine without existing importing relationships. But this spring we finally stumbled upon the Domaine Boursot, a humble family of winemakers right in the heart of Chambolle.
Brothers Romaric and Romauld Boursot are the fifteenth generation to lead the domaine. Our first vintage with them, 2017, was a smashing success, and we sold nearly everything we bought. The 2018 vintage proves this was no fluke — these are excellent winemakers with extraordinary terroir. Vinous's Neal Martin calls them "superb," "very fine," and "worth seeking out."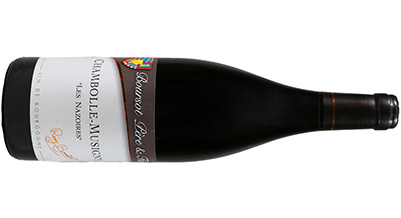 Boursot's village-level Chambolle-Musigny is deep, perfumed, and delicious. Grown on the flat near the Route Nationale, this clay-rich plot turns out powerful red Burgundy with a healthy splash of Chambolle grace and charm. The 2018 vintage provided ample warmth and sunshine, and this rich, velvety wine is a delight even today.
The nose is dark and floral, with notes of licorice, silk, forest berries, and sweet burnt wood. The mouth is graceful and poised even at this young age — the tannins are ripe and juicy, with excellent depth and silky length. It's classical Chambolle presented in a smooth, modern and beautifully textured wrapping. We expect it to improve for another five years, but the bottle we opened last night with roast chicken and root vegetables was strikingly good already.
____________________________
Boursot Chambolle-Musigny 2018
bottle price: $69

FREE EAST COAST SHIPPING ON ANY 12 BOTTLES