New winemakers in Burgundy are hard to come by. It's a tiny region, and between small harvests, ever increasing demand, and well-established importers, it can seem there's nothing new to discover.
But with a bit of research and a dash of persistence, we still manage to find hidden gems. One of last year's most exciting finds was the Domaine Boursot, based in part on a recommendation from Vinous's Burgundy reviewer Neal Martin. Martin writes of a "foundation for a promising future," and describes Boursot's wines as "superb," "excellent," "very fine," and "worth seeking out."
Boursot is best known for their excellent Chambolle-Musignys, which were met with wide acclaim among our readers last year. But their hidden gem is their Côte de Nuits-Villages.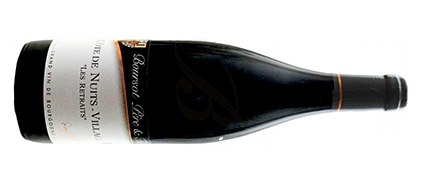 Boursot's Côte de Nuits-Villages is a supremely well-located regional-level wine, and the quality shows through in the glass. Made from vines immediately on the other side of the wall from Chambolle royalty Frédy Mugnier's famous Nuits-St-Georges 1er cru "Clos de la Maréchale," (see photo) this greatly overperforms its class.
The 2018 isn't all that subtle, but it's rich and mouthfilling in a way that's hard to put down. It's classic Boursot style: the nose is dark and briary, with Côte de Nuits cassis and hints of black pepper and toast. The mouth is punchy and juicy, with a woodsy mouthfeel laid over lots of beefy extraction.
Is it as good as the $175 Premier Cru Nuit-St-Georges next door? Nope. But at a quarter of the price it might be a better buy — loaded with character, presence, and depth.
____________________________
Boursot Côte de Nuits-Villages 2018
bottle price: $42

FREE EAST COAST SHIPPING ON ANY 12 BOTTLES