It's starting to feel like Fall again — football is back, there's a chill in the air, and pumpkins are popping up at the market. Chez nous, the change in seasons means a change in our wine habits — a shift towards bottles that are richer, redder, and more robust. But most importantly, autumn means Beaujolais.
The celebration around the Beaujolais Nouveau (if not the wine itself) may be enjoyable, but it sells the grape and terroir short. Given a few extra bucks, one more year, and a bit of care in the vines and cellar, Gamay can be worlds better than mass-market infantile Nouveau.
For proof, look no further than Jean-Marc Monnet, our source in Juliénas.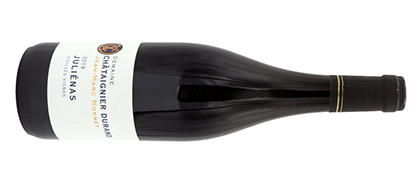 Jean-Marc Monnet has no website, no other American importer, and even we still get lost trying to find his house sometimes. We used to think of him as our little secret, but it turns out the Guide Hachette named him a Winemaker of the Year two years ago. His two 2020 cuvées have just arrive, and they're simply delicious.
Monnet's 2020 Chiroubles is lightweight and crackling, but in a warm year like 2020 packs a lovely floral ripeness and plenty of body. Take it along to a tailgate for a Fall football game, or serve it with your Thanksgiving turkey. It's bright and intense, with notes of cranberry, peony, and graphite.
The fruit in Monnet's 2020 Juliénas is darker and its intensity greater than the Chiroubles. Fine-grained tannins provide support and the wine persists on the palate nicely. This is a fuller, more serious Beaujolais with excellent balance. Monnet's style gives both ripe fruit and approachable tannin.
Both wines are best described in French as gouleyant, a wonderfully onomatopoeic word that means "gulpable." Try it — "GOO-lay-AWNT" — it's almost as fun to say as this is to drink. Almost.
____________________________
Monnet Chiroubles 2020
bottle price: $18

____________________________
Monnet Juliénas VV 2020
bottle price: $19