We get lots of prospecting emails from around the world — new winemakers in less traveled regions offering to send samples. We stay in our lane as much as we can, and so most offers we politely decline. But it's not every day you hear from someone promoting Côte Rôtie "Côte Blonde," and so when we received such an invitation last year we took note. And after a half hour of Googling we started to get excited.
The Domaine de Boisseyt has been around since the 1790s, but the current winemaking team has been at the helm since 2017. Thirtysomething winemaker Romain Decelle is part of a winemaking family stretching from Bordeaux to Burgundy, and today he farms 24 hectares of Syrah and Viognier in St-Joseph and Côte Rôtie. The wines get impressive scores but are hard to find in the states.
All of De Boisseyt's wines that arrived last fall have been popular – some have even sold out already. But most impressive cuvée is undeniably their finest: the Côte Rôtie "Côte Blonde."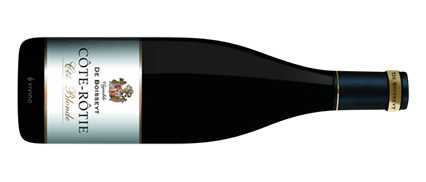 There are only six domaines (among them Chapoutier, Guigal, Ogier, and Rostaing) with vines in the famous Côte Blonde vineyard in Côte Rôtie. De Boisseyt's parcel here is 0.55 hectares (1.3 acres), producing around 200 cases a year. It's not exactly a weeknight bottle, but at $125 it beats Rostaing's Côte Blonde 2018 ($200) and Ogier's ($400) by a wide margin.
The wine itself is seriously impressive. Combining elegance and depth, the 2018 Côte Blonde shows terrific intensity and extraordinary length. The nose shows cassis and raspberry, with dried violets and earth; the mouth is exceptionally long and intense, without an ounce of harshness or dryness — every inch of tannin perfectly coated in inky fruit.
The Wine Spectator's James Molesworth wrote "this has a beautiful flow to it," finding "savory and floral details carried by a seamlessly embedded iron spine. A really pure expression of Syrah. 94 points." Jeb Dunnuck also awarded 94 points, remarking "it's beautifully done." It's rich, bold, muscular and mouthfilling – a perfect snowstorm red.
____________________________
De Boisseyt Côte Rôtie "Côte Blonde" 2018
bottle price: $125