Over the weekend Pascal Bardoux welcomed us to his kitchen table for an intimate tasting of his terrific grower Champagnes. Pascal's wines are just like the man himself: subtle, understated, and delightful. In a region where "le marketing" is king, Bardoux's delicious, hand-crafted, well-priced cuvées stand out.
This time we tasted three magnificent vintage cuvées from magnum, and we're excited to bring them back to the states later this year. But Pascal's humble Brut Traditionnel is his calling card, and it's as good as ever. Much mass-market Champagne that gets to the US fetches between $75 and $100 a bottle; Bardoux's small-batch Brut Traditionnel doesn't even crack $50 — twice the wine at half the price.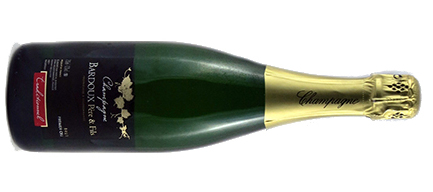 Bardoux's Brut Traditionnel is his non-vintage cuvée, and an excellent entrypoint to the collection. A blend of 60% Pinot Meunier, 30% Chardonnay and 10% Pinot Noir, this wine has the complexity and depth to match the finest bottles from Burgundy or Bordeaux. The nose shows plum, chalk, lime zest, and buttered biscuits; the mouth is dry, elegant, and smooth, with notes of apple and toast.
We can't recommend this wine highly enough. Think of it as a refined, complex wine in its own right; it just happens to feature bubbles. Some of our favorite pairings include: sushi, triple-cream cheese (like Delice de Bourgogne or Brillat-Savarin), or gougères.
____________________________
Bardoux Champagne Traditionnel NV
bottle price: $49