The soils of Burgundy vary widely based on location, but in general are some blend of argile (clay) and calcaire (limestone). The proportion of these two elements goes a long way in determining the character of wine made in each town. And in Chambolle-Musigny, it's all about the calcaire.
This higher mineral content gives the wines of Chambolle their signature silkiness, featuring elegance and lift more than muscle and power. Our source here is the Domaine Boursot, a winery dating back to the 1550s, but one that's unmistakably on the upswing today. Jasper Morris MW writes that "the winemaking has been sharpened up by the current generation;" Neal Martin of Vinous sees "good potential" and "a promising future."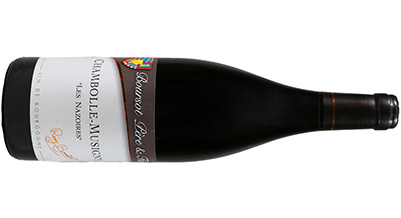 Boursot produces three really terrific premier crus from Chambolle. But it's their village-level cuvée that might most effectively punch above its weight. Martin calls the 2019 Chambolle Nazoires "generous and nicely defined, perhaps quite Vosne-like in style." Writer Bill Nanson called it "elegant… delicious, complex, proper Chambolle."
A high toned silky precision wafts from the nose of this wine, with notes of red currants, roses, and stones. The mouth is concentrated and precise, with cinnamon, wild cherries, and cassis all channeled into a polished, regal form. Enjoy this as a delicious you wine from a decanter over the next year or two, or save it for another five and drink it as a mature masterpiece.
____________________________
Boursot Chambolle-Musigny 2019
bottle price: $78