Village Profile: Morey-Saint-Denis
March 10, 2021
It's hard to call any place in Burgundy's Côte de Nuits "overlooked," but Morey-Saint-Denis has always been a bit of an underdog. It's a tiny place — about a mile from end to end, and home to fewer than 700 people — and sits between two larger and more famous neighbors. But it's an impressive town in its own right, worthy of attention and respect.
Place
Morey-Saint-Denis sits sandwiched between Gevrey-Chambertin to the north and Chambolle Musigny to the south. With 110 hectares of vines (compared with 403 and 178 for Gevrey and Chambolle respectively), Morey-Saint-Denis is the smallest village in the Côte de Nuits.
Its vineyards are situated neatly by classification — all five Grand Crus sit in a row on the hill, with Premier Crus down the slope a bit and most village-level wines on the flat. The whole slope faces east in roughly the same exposition. The soils vary across the appellation, but are typically some mix of iron-rich red-brown clay with small rocks and gravel over a relatively shallow limestone bedrock.
Morey boasts four Grand Crus unto itself (Clos de Tart, Clos des Lambrays, Clos St-Denis, Clos de la Roche), and shares one (Bonnes-Mares) with Chambolle Musigny. Between these five and the twenty premier cru climats, more than half of the town's total production is Premier or Grand Cru, the highest in the Côte d'Or.
History
The citizens of Morey-Saint-Denis have grown grapes since at least the 12th century, with the Abbeys of Vergy, Cîteaux and Tart controlling most production for centuries. After the French Revolution, winemaking came under the control of wealthy local families.
Before 1935, much of the premier cru and village-level wine from Morey was sold as Chambolle or Gevrey. Several of the town's Grand Cru vineyards (Clos de la Roche, Clos de Tart) became famous on their own, but Morey itself ended up a less recognizable brand than its neighbors Vosne, Chambolle, and Gevrey.
In 1927, along with all of its neighbors, Morey appended one of its Grand Crus to its name in an effort to promote its brand. Though most consider Clos Saint-Denis the least impressive of the five Grand Crus, it's the only Grand Cru name that worked as an appendage, and so has stuck for almost a century.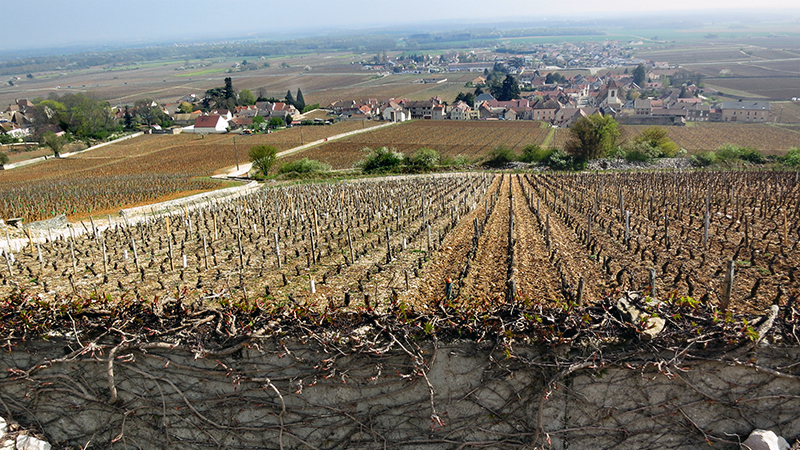 Character
The simplest description of the wines of Morey-Saint-Denis, and one used by many of its winemakers, is that of a blend of Gevrey and Chambolle. The wines of Morey-St-Denis are more high toned than Gevrey-Chambertin, showing increased minerality and often more acidity, but they share some of Gevrey's rugged savoriness. Morey's wines are typically vibrant and energetic, and at their best can be almost unmatched in subtlety. A Morey-Saint-Denis is rarely the loudest wine in a lineup, but with correct maturity and in the right context they can be sublime.
We often find notes of spring flowers, wild cherries, minerals, and blackberries in the nose, sometimes with a hint of game and sous-bois. The mouth typically shows excellent minerality and tension, with notes of licorice, plum and earth. At its best, Morey-Saint-Denis shows a sense of refined ruggedness.
In the Ansonia portfolio, our main source for Morey-St-Denis is Domaine Pierre Amiot. The Amiots have vines at the village level, four premier crus (Ruchots, Millandes, Charmes, Blanchards), and in the Grand Cru Clos de la Roche. Michel Gros also makes a cuvée of village-level Morey-Saint-Denis from "En la Rue de Vergy."
TW
_______________________________
Download this article as a PDF