A l'Ancienne.  Francis Muré lives in a charming Alsatian hill town. His small farmhouse nestles on vine-covered slopes near stone streets lined with colorful flower boxes. It's quaint and picturesque, like something from a children's storybook.
Muré's wines are a perfect representation of their pastoral origin. Today's Rosé, is a summery, refreshing, uncomplicated glass of wine. The nose is of spring flowers, and the mouth is pure and ripe and clean. We can't all live in such a beautiful place as Alsace, but a glass of this rosé will transport you there, at least for a moment.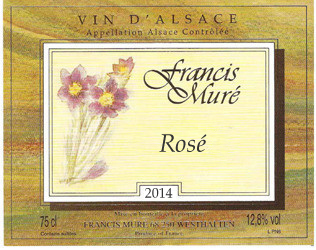 Summer relief.  Muré splits the fruit from his Pinot Noir harvest into two wines: the bright, summer-weight red we wrote about last week, and this rosé. Where the notes in the red are mostly wild cherries, the rosé is more floral, and the fruit is closer to raspberry.
The two main things we look for in a rosé are low alcohol, and enough acidity. Muré's Rosé clocks in at 12.5%, and has a lovely, elegant balance. The cool, ripe fruits round out beautifully in the mouth, but the gentle acidity keeps it lively and fresh.
During a week like this, with oppressive humidity and unrelenting heat, Mure's Rosé is as useful as an umbrella in April. Bring it outside to your backyard or patio, and you might even get some gardening done.
_
________________________

MURÉ Rosé 2014
Ansonia Retail: $17
offer price: $14/bot
_
AVAILABLE IN 6-  AND 12- BOTTLE LOTS
_
_
_
_____________________________