Balance.  France is in the midst of an intense heat wave these days. Though the south of France is no stranger to summer heat, the country's continental climate is important in helping its wines achieve balance. Grapes that are overripe contain too much sugar, which boosts alcohol levels and flattens the palate.
With temperatures in the South of France pushing 100 F these days, we're awfully glad to have the Clos Bagatelle in our portfolio. Located in the bright, sunny Languedoc, Bagatelle's wines nevertheless achieve a consistent balance, year after year. Today we're releasing the 2011 Veillée d'Automne, a delicious, vibrant wine with notes lavender and roasted blackberry jam.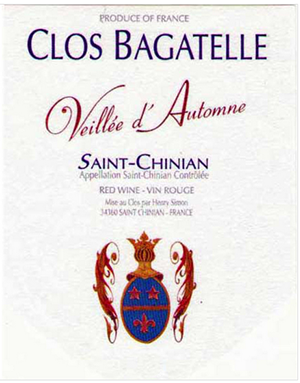 Blackberry.  Clos Bagatelle is a centuries-old domaine in St. Chinian, a mountainous section of the northwestern Languedoc.  The secrets to achieving balance are schist-laden soils and high elevation, which protect the wines from over-ripeness and high alcohol. The result is a concentrated wine with rich, dark tannins, but one that isn't overly mouth coating or heavy.
Veillée d'Automne is majority Syrah, with Grenache, Mouvèdre, and Carignan blended in.  There's a faint woodsy smokiness in this wine that makes it a harmonious pairing for food from the grill. We're looking forward to trying this unusual steak-right-on-charcoal recipe from the New York Times, and anticipate this will be a lovely match.
_
________________________

BAGATELLE Veillée d'Automne 2011
Ansonia Retail: $22
offer price: $18/bot
_
AVAILABLE IN 6-  AND 12- BOTTLE LOTS
_
_
_
_____________________________