A Chill in the Air.  With September weather finally in the air these days, we welcome the signs of autumn: yellow schoolbuses, wool sweaters, and the return of football. As cooler days turn to even chillier nights, our palates turn towards denser, more full-bodied reds, and whites with some depth and roundness.
We've put together a collection of two whites and two reds to help ring in the new season. The reds are from the south of France, where the warm Provencal sun contributes richness and depth to the wines; the whites are a round, unoaked wine from Alsace, and a mouthfilling Premier Cru white Burgundy. These everyday-priced wines should be right at home as your kitchen turns from grilling to roasts, and from barbeque to stew.

The Bagatelle St. Chinian "Veillée d'Automne" 2011 is a syrah-based wine from the Languedoc. Though dark and full-bodied and rich, this wine also manages to avoid the traps of high-alcohol and over-ripeness.
The 2011 "Calades" from the Mas Foulaquier is a classic cool weather wine. It's a blend of Syrah and Grenache, and shows beautiful notes of earth, plum jam, blackcurrants, and sous-bois (woodsiness).
Gautheron's Chablis 1er cru "Vaucoupin" is a classic, unoaked Chablis. It draws its considerable richness from the soil and vines, rather than wood, and retains the beautiful freshness and minerality for which Chablis is known.
The Mersiol Auxerrois is an unusual grape from Alsace, similar to a Pinot Blanc. The nose is peach and apricot; the mouth is dry but balances a rich, long mouthfeel with sturdy, food-friendly acidity.
._
____________________________

_
MIXED CASE: AN AUTUMN COLLECTION
3x   Bagatelle St. Chinian 2011:   $22
3x   Foulaquier Calades 2011:   $30
3x   Gautheron Chablis 1er cru 2013:   $28
3x   Mersiol Auxerrois 2013:   $17
_______________________
Ansonia Retail: $291
mixed-case price: $245/case       (save $46)

(free East Coast shipping)
_ 
_
–
– _
_____________________________
Enjoy this article? Sign up to receive them in your inbox.
_
_____________________________
_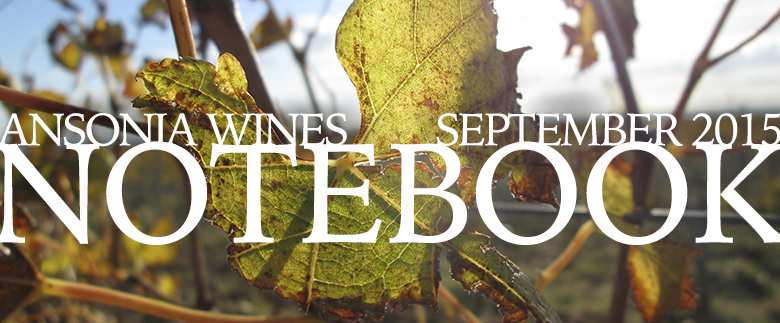 –
–
_