Fermentation.  Most of Burgundy completed the harvest last week, with all signs pointing toward an excellent 2015 vintage. As once tractor-filled streets return to their sleepy normalcy, the excitement and celebration in the air has given way to the sweet, yeasty smell of fermentation.
Most wines go through two fermentations — the alcoholic fermentation, happening now, converts natural sugars into alcohol. The second, the "malolactic" fermentation, converts malic acid (found in apples and tart fruits) into a softer lactic acid (found in milk). The effect effect of the malolactic fermentation is to soften a wine and to thicken its mouthfeel.
"Thickness" can be an attractive quality in white wine, provided it's not overdone, as it is in many New World wines. The best white Burgundies possess a bright acidity that helps keep them lively and balanced. One of our favorite styles of this thick but balanced white Burgundy comes from the Domaine Ravaut in Ladoix.
Cool Weather White.  The Ravaut family is the ultimate local wine source. A generation ago the Ravauts developed a clientele among the workers in the quarries next door, and today they continue to sell more than half of their wine to local customers. They fly mostly below the radar of the international wine press, and we feel lucky to have found them. (Pictured above is Vincent Ravaut during the 2013 harvest.)
We've bought out the Ravauts' remaining stock of 2012 Bourgogne blanc, and it arrived in our warehouse last week — it's a delicious wine at an impressive price. With a rich mouthfeel and beautiful balance, this is a wine for gourmands – it's generous, easy to drink, and pairs beautifully with food. There are faint notes of fennel and coconut, next to the traditional lemon and toast. And the richness makes it a perfect cooler-weather white wine. Try it with a risotto – squash or mushroom are our favorites.
._
________________________

RAVAUT Bourgogne blanc 2012
Ansonia Retail: $25
case, half-case price: $22/bot


_
AVAILABLE IN 6-  AND 12- BOTTLE LOTS
_
_
_
_____________________________
Enjoy this article? Sign up to receive them in your inbox.
_
_
_____________________________
_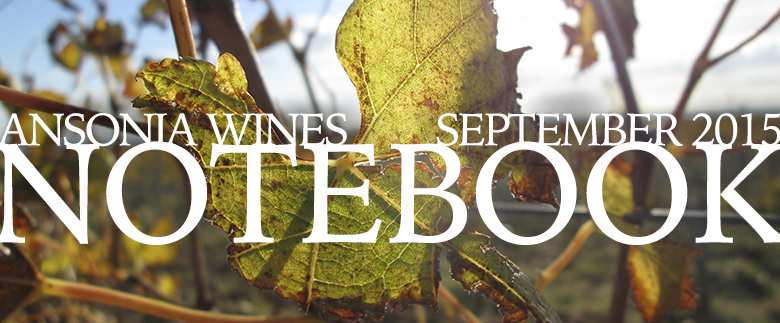 –
_