High Yields. Carignan is the most widely planted grape you never heard of. It covers nearly 80% of the vast Languedoc, and given free rein the grape can yield 200hl/ha (versus about 30 in Burgundy). This is a formula for ordinary wine.
But kept in check and grown carefully, Carignan can produce really delicious wine. Located in the appellation Fitou, the Domaine Bertrand-Bergé does both, achieving yields of 40 hl/ha, and wines of delicious depth. Jancis Robinson cites Bertrand-Bergé as an example of the "purity" possible in wines from Fitou.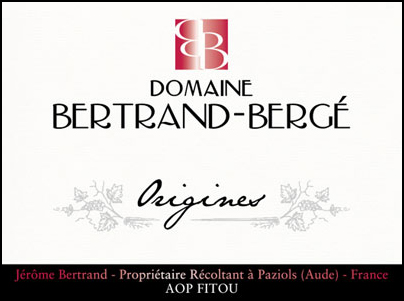 Sauvage.  Fitou is along the Mediterranean coast, about 30 minutes north of the French-Spanish border. The local accent is so thick as to verge on a dialect, and both the region and the wines have a rugged windswept character. These aren't wines to age, or to hold as investments — they're uncomplicated bottles to be enjoyed with a few friends and a good meal.
We opened a bottle of the Fitou "Origines" 2011 last night with pasta, and found it beautifully drinkable. The nose is dark cranberries and a hint of menthol; the mouth is smooth and dense and chewy, with rustic notes of woods and plum jam. There's even a faint savory almost-saltiness that recalls the nearby Mediterranean.
Our last few cases of this wine have just arrived from the warehouse. It's probably too rich to drink in 90 degree heat, but with September's autumn chill sure to arrive in the next few weeks, this is just the cork to pull as you break out your sweaters
._
________________________

BERTRAND-BERGÉ Fitou "Origines" 2011
Ansonia Retail: $18
case, half-case price: $15/bot
_
AVAILABLE IN 6-  AND 12- BOTTLE LOTS
_
_
_
_____________________________
Enjoy this article? Sign up to receive them in your inbox.
_
_
_____________________________
_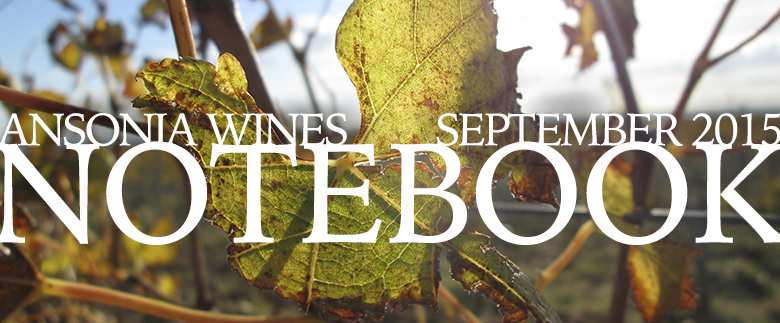 –
–
_