The Rhône River divides into two very different halves. The Northern Rhône features syrah-based wines from the dramatic slopes of towns like Côte Rôtie and Hermitage. The Southern Rhône offers blends of Grenache, Syrah, and Mourvèdre, most famously from Châteauneuf-du-Pape.
We like red wines from both ends of this river, particularly in the fall and winter. Northern Rhône reds are spiced and peppery with dark fruits and smoke. Thier southern counterparts are richer and darker, showing baked fruits and jam. Both will pair beautifully with roasted meats and a roaring fireplace.

Saint Clair's Crozes-Hermitage is a classic Northern Rhône, showing all of the darkness of the Syrah grape, but none of the heaviness it develops in other climates. The 2012 Crozes shows dark blackberries with an intoxicating blend of cloves, tobacco and anise.
Robert Parker calls our source for Côte Rôtie "among the finest in the appellation." The Domaine Bonnefond's Côte Rôtie is inky and dense, showing roasted plums and black pepper, with a spiced mouth of dark chocolate and toast.
The Goubert Gigondas 2011 is a traditional wine from a classic winemaker. The fruits are dark and nicely melted together, showing provencal spice and plum jam. This has been a standby Southern Rhône wine in our cellar for decades.
The Font du Loup is our newest source for Chateauneuf-du-Pape. Their wine from this famous appellation shows raspberry jam, with hints of sage and menthol. It's more elegant than massive, but the smooth, silky texture persists on an exceptionally long palate.
_
NORTH VS. SOUTH: THE RHÔNE
3x   Saint-Clair Crozes-Hermitage 2012:   $28
3x   Bonnefond Côte Rôtie 2013:   $54
3x   Goubert Gigondas 2011:   $28
3x   Font du Loup Chateauneuf 2012:   $42
_______________________
Ansonia Retail: $456
Notebook price: $385/case

(free East Coast shipping)   |   save $71
_ 
_
–
– _
_____________________________
Enjoy this article? Sign up to receive them in your inbox.
_
_____________________________
_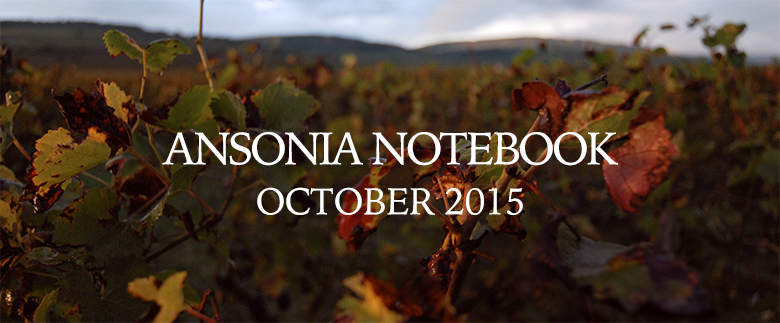 –
–
_