One size fits. For the next four weeks, most lives are filled with gift exchanges, holiday parties, and large family meals. Whether you're a host or a guest, everyone's just a bit happier to see you with sparkling wine in hand. Here's a bottle of affordable, versatile bubbles that fits as well in a secret Santa or office cocktail party as on your family's holiday table.
Last week we released our first grower Champagne, and within a few hours we sold out entirely. (We have more on its way, arriving next month). Until it arrives, we're browsing through our stock of crémant, Champagne's less glamorous but more affordable cousin. Today's crémant comes from Burgundy, and at $25 is an exceptional value. A glass of bubbly may always say "celebration," but it doesn't have to say "extravagance."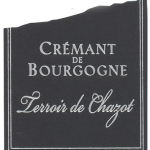 Pure Pinot. The Champenois often mix uncolored Pinot Noir juice into their cuvées of Champagne, and today's example from Burgundy borrows this idea. Made from a select plot of 100% Pinot Noir grown in the hills above the Côte d'Or, the Maison Picamelot's "Terroir de Chazot" is an complex and unusual example of terroir-based sparkling wine.
Most crémant in Burgundy and Alsace is a blend of several varietals from different locations. For this wine, Picamelot decided to isolate a single grape from a single plot and bottle it unblended – the result is a finer, more intense and earthy sparkling wine, with notes of roasted apples and herbs.
Sparkling wines provide the answer to dozens of food-pairing puzzles that might otherwise remain unsolved. Anything from asparagus to strong cheese to dessert will work nicely with this crémant; but our pick today is Delice de Bourgogne, a triple cream cows' milk cheese that will deftly eliminate the need for butter on your bread.
________________________

PICAMELOT Crémant "Terroir de Chazot"
Ansonia Retail: $30
case, half-case: $25/bot


_
AVAILABLE IN 6- AND 12- BOTTLE LOTS
_
_
_
_____________________________
Sign up to receive these posts in your inbox:

__
_____________________________
_

–
_