Experiences vs Things.  In the debate about the value of material goods vs. experience, most assume that goods create greater satisfaction because they're less fleeting. Science suggests, however, that experiences actually provide longer-lasting happiness. We like to think that wine is a perfect mix of the two.
Wine as a material good is obvious: the dusty bottle in the back of your cellar was once a purchase, hopefully at a moment when the Dollar was strong against the Euro (or the Franc). But consider too the experiential value of the moment you finally pull the cork: friends or family there to enjoy it with you, food on the table, music in the background. To our mind there's no better accompaniment to a great moment than a great bottle of wine.
And if the moment is unusually grand, it calls for a similarly great wine. Grand Cru wines, you'll remember, represent just 1.3% of Burgundy's production. They're the finest Burgundy has to offer – at home on the tables of kings and heads of state for centuries. And though most involve several hundred dollars of investment and decades of patience, today we suggest a Grand Cru that's mature and less than $80 a bottle.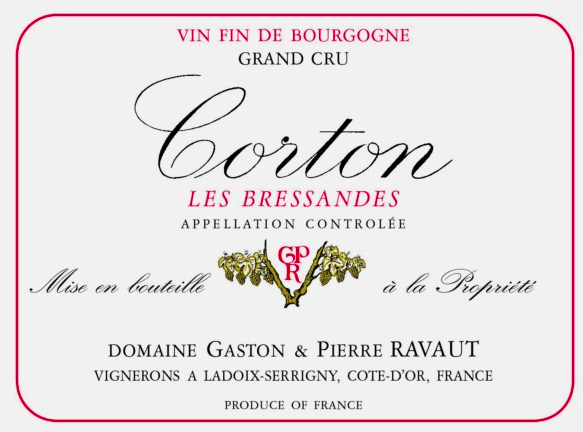 From the back of the cellar. As we finished our tasting at the Domaine Ravaut in June, Mr. Ravaut suggested trying something from a little deeper the cellar. He disappeared for a few minutes and returned with an unmarked bottle. Without telling us what it was, he pulled the cork and offered us each a taste.
From the moment it hit our glasses, the wine was extraordinary. The nose was beautiful and perfumed, with notes of flowers and graham crackers; the mouth was dense and velvety, showing raspberry confit, cinnamon, and hints of sous-bois. We marveled at how much of the core structure remained, though softened beautifully over nine years. It seemed likely to weather the next nine with similar grace.
The wine was a 2006 Grand Cru Corton-Bressandes, perhaps the finest wine we've tasted from Ravaut, and we quickly asked him to set aside a handful of cases. Our offer to this list back in June sold out in half a day, and we've heard enthusiastic reports from readers who were able to pick some up. We managed to convince Mr. Ravaut to part with a second batch, which arrived in the States a few days ago.
It's unusual to have the opportunity to buy Grand Cru red Burgundy with nine years under its belt. But it's even rarer to find it with perfect provenance — until three weeks ago, this hadn't left the vingeron's cellar since the day it was bottled. A bottle of this wine is of course a material good, and an exceptional one at that; but the wine inside it nothing short of an experience.
NOTE: For this wine, we're relaxing our normal half-case minimum to 3 bottles.
________________________

RAVAUT Corton-Bressandes Grand Cru 2006
Ansonia Retail: $88
case, half-case: $75/bot


_
AVAILABLE IN 6- AND 12- BOTTLE LOTS
_
_
_
_____________________________
Sign up to receive these posts in your inbox:

__
_____________________________
_

_____________________________
–