Everyday richness.  Everyone knows of Chateauneuf-du-Pape. The famous appellation was heralded by French popes in the 1300s, then rediscovered by Robert Parker in the 1980s. The wines can be truly extraordinary — (watch next week for a special 9-year-old CDP) — but are usually at "special occasion" prices.
Enter Gigondas. Wines from this appellation, about 20 minutes across the valley, share many of the same rich, dark characteristics that draw people to Châteauneuf-du-Pape. Gigondas isn't quite as deep or as long lived as its more famous neighbor, but its price encourages more frequent enjoyment. For many years our pick from the town (as well as Robert Parker's and Jancis Robinson's) has been the Domaine les Goubert.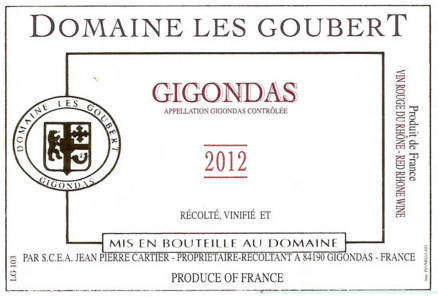 Excellence. Goubert's Gigondas is among the most consistent wines in our lineup. We've been enjoying it since the early 1990s, and we haven't seen a bad vintage yet. But the 2012 Gigondas is nothing short of exceptional. It's a perfect wintery wine – dark and rich, but neither heavy nor hot. It arrives in our warehouse next week, just in time for the cold weather around the corner.
The nose shows bright red flowers and dark, rich jammy fruit, hitting high notes and low notes simultaneously in a harmony unusual even for the Cartier family. The mouth is sturdy and meaty, with cool dark tannins and impressive length. Serve this with stews, soups, roasts, and other wintery fare. If you can picture a dish served in drafty medieval chateau in front of a roaring fire, the Gigondas should match it perfectly.
________________________

GOUBERT Gigondas 2012
Ansonia Retail: $30
case, half-case: $25/bot


_
AVAILABLE IN 6- AND 12- BOTTLE LOTS
_
_
_
_____________________________
Sign up to receive these posts in your inbox:

__
_____________________________
_

_____________________________
–