Le Tricolor. We're sometimes asked why our portfolio focuses so heavily on France. Our year there in the late 1990s has something to do with it, but in fact France's wine regions offer a remarkable diversity of selection. In other words, there's enough there to keep us busy for quite a while.
Our affinity notwithstanding, one property beyond the Alpine border has long impressed us enough to merit an exception. It was exceptional olive oil that first drew us to the Fattoria Poggerino (look for an opportunity to pick some up in next month's Futures), but the tiny winery also produces excellent and very reasonably priced Sangiovese. Today's offer is for their award-winning Chianti Classico.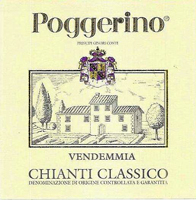 Smoke and Cherries. The name "Chianti" is indelibly linked to the image of a straw-covered "fiasco" bottle with candle wax dripping down its sides; and a former reputation for low quality was once well deserved. But the quality of wine made in Chianti has improved in the last three decades as much as any wine in the world, and though it's a tiny fraction of the wine we import, we love having a Chianti in our lineup.
The 2011 Poggerino Chianti Classico has a cool, solid body that's sturdy but not heavy. We found chocolate, beef, and smoke in the nose, with roasted cherries in the mouth. The wine is pure Sangiovese, a dense grape that can produce a powerful wine with beautiful floral aromas in the hands of a skilled winemaker with the courage to let ripen fully.
________________________

POGGERINO Chianti Classico 2011
Ansonia Retail: $24
case, half-case: $19.95/bot


_
AVAILABLE IN 6- AND 12- BOTTLE LOTS
_
_
_
_____________________________
Sign up to receive these posts in your inbox:

__
_____________________________
_

_____________________________
–