Park Place and Boardwalk. The US tends to be wary of monopolies, with various laws set up to prevent their abuse. But in Burgundy, monopolies are both rare and highly sought-after. With most plots across Burgundy divided up in the generations after Napeleon's 1804 anti-primogeniture edict, single-owner vineyards are very uncommon.
Our favorite Burgundian monopoly is the flagship wine from the Domaine Michel Gros, the Vosne-Romanée 1er cru "Clos des Réas." This is truly fine red Burgundy, a wine that Master of Wine Clives Coates has called "Pinot Noir at its most elegant." Today, the Clos des Réas is the last remaining premier cru monopole in Vosne-Romanée, a town known as Mecca for those afflicted with the Burgundy bug.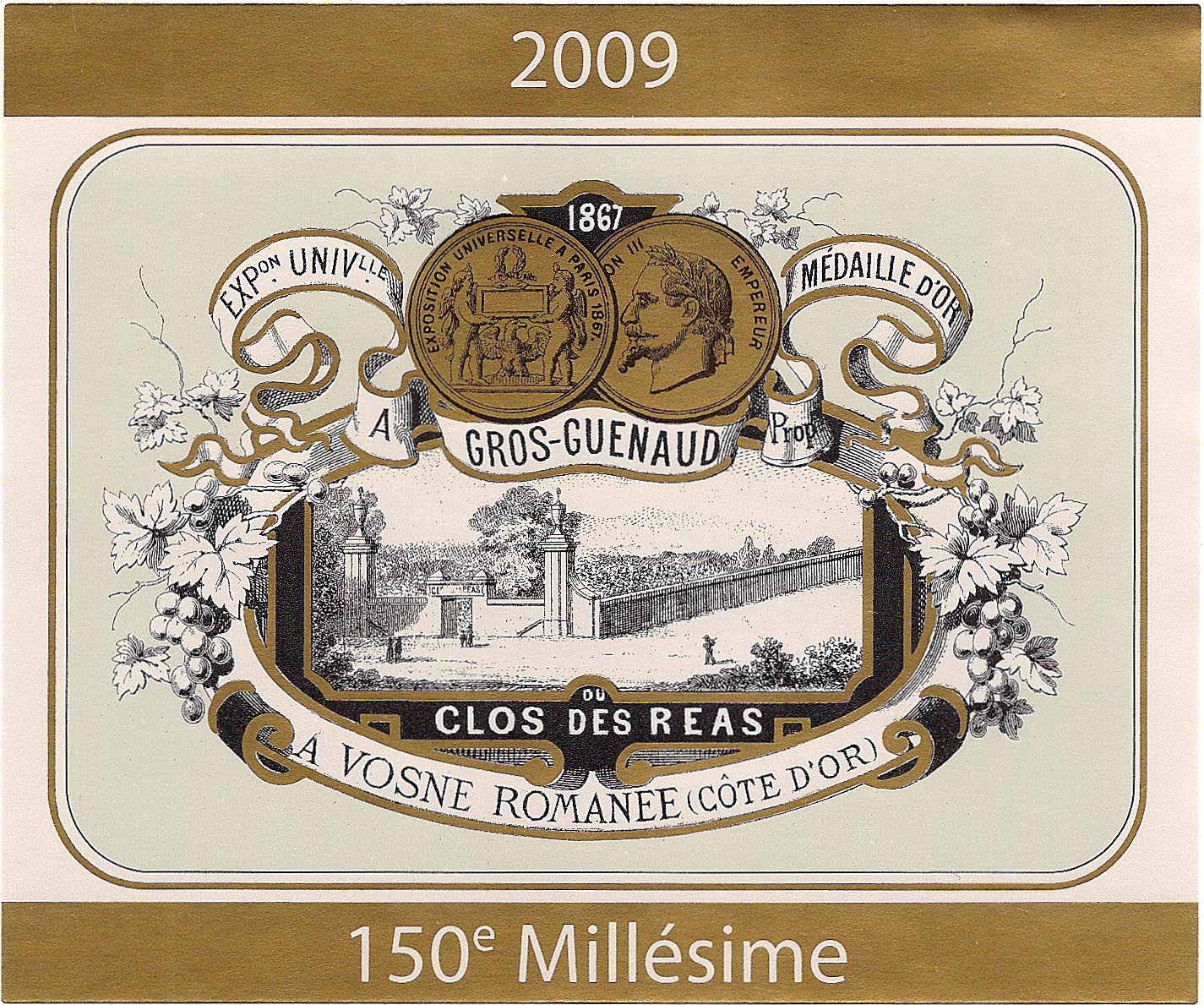 Violets and Raspberries. Like many of the best wines from Vosne, the nose on Réas is consistently floral – we usually find dried roses or violets. The mouth is long, complex, and silky, with beautiful tension and depth. This wine has a long life ahead of it, and we've enjoyed bottles of Réas well into their second and third decades. But 2009 was a vintage of exceptional ripeness and balance, and the 09 Réas is an extraordinary glass of wine even today.
With the 2009 vintage, the Gros Family celebrated the 150th anniversary of their ownership of the Clos des Réas. In honor of the anniversary, the domaine labeled the wine with a replica of the 1859 label. It's the only vineyard of its kind in this center of the Burgundian world: a special wine, from a special vintage, in an incredibly special town.
NOTE: We're offering this wine in 3 bottle lots; shipping is free (to the East Coast) on three bottles.
________________________

MICHEL GROS Vosne-Romanée 1er cru Mônopole "Clos des Réas" 2009
Ansonia Retail: $145
offer price: $129/bot


_
AVAILABLE IN 3-  6- AND 12- BOTTLE LOTS
_
_
_
_____________________________
Sign up to receive these posts in your inbox:

__
_____________________________
_

_____________________________
–