Les Huitres.  Muscadet has long a favorite by-the-glass wine at oyster bars around the world. And we'll admit that there is little else (except perhaps Chablis) that washes down a plate of raw oysters so well as a brisk glass of Muscadet. Until recently, Muscadets were inexpensive and uncomplicated — a delicious wine cheerfully lacking in ceremony and grandeur.
But Muscadet has undergone some reimagining of late. The region elevated three appellations to "Cru Communal," adding aging requirements and geographic restrictions. The result is a new "upper class" of Muscadet, with a richer body and more complexity.
We'll admit that we were mildly concerned that the appellation might be abandoning its everyman roots. But we're pleased to report that Muscadet wears its new robes well, retaining its essential mineral vibrancy while adding a new touch of class.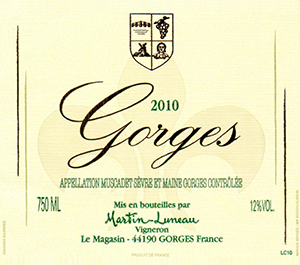 Not your grandfather's Muscadet. We discovered the Domaine Martin-Luneau in the only way Muscadet should be discovered: over a few dozen oysters on the outdoor patio of a bistro in Nantes. Their 2010 "Gorges" (one of the three new appellations) has the same delicious fruit as regular Muscadet, but in a fuller, rounder, richer glass of wine.  It opens expansively in the glass and fills the mouth, but is unmistakably Muscadet, showing lime rind, lively minerality, a touch of grape skin bite at the back end of the palate.  
We're excited about this new world of Muscadet. We think it expands the culinary harmonies far beyond shellfish, to broiled fish, roast chicken, bouillabaisse, and beyond. It's no longer just a cheap wine to follow a salty appetizer.  Muscadet has reinvented itself, and the results speak for themselves.
________________________

MARTIN-LUNEAU Muscadet "Gorges" 2010
Ansonia Retail: $22
case, half-case: $16.95/bot


_
AVAILABLE IN 6- AND 12- BOTTLE LOTS
_
_
_
_____________________________
Sign up to receive these posts in your inbox:

__
_____________________________
_

_____________________________
–