At the top.  In Burgundy, Grand Cru is as good as it gets. Making up just the top 1.3% of wines produced, these are the finest wines Burgundy has to offer. Their correspondingly high prices mean that most wine drinkers enjoy them only occasionally, if at all. Many bottles fetch prices in the hundreds, and some even in the thousands.
But Chablis provides a seeming contradiction in terms: well-priced Grand Cru. Located an hour and a half northwest of Burgundy proper, Chablis is a terroir unto itself, where stony and fossil-laden soils produce pure, exquisite expressions of Chardonnay. At its best, Grand Cru Chablis rivals the greatest whites from the rest of Burgundy, and we think today's wine deserves such a label.
Lemon and Gardenia. Today we suggest the Grand Cru 2013 Valmur from Jean Collet. As with much Grand Cru Chablis, Collet's Valmur is raised in oak; but the wine handles it beautifully. The wood melts effortlessly into the lemony perfume, adding a rich background for the classic burst of acidity and minerals. The mouthfeel is remarkably long and dense, a real testament to the power found in top class white wine.
This is a special wine, and deserves a special dish to accompany it. Chablis and oysters are the easy pairing, but you'd have to find some pretty exceptional oysters for this wine. Scallops might be a better match, seared carefully in oil and butter. Or a triple-cream cheese – Brillat-Savarin, or Delice de Bourgogne – left on the table for a few hours to come to room temperature.
________________________

COLLET Chablis Grand Cru "Valmur" 2013
Ansonia Retail: $60
quarter-case: $48/bot


_
AVAILABLE IN 3-   6-  AND 12-  BOTTLE LOTS
_
or call Tom: (617) 249-3657
_
_
_____________________________
Sign up to receive these posts in your inbox:

_
_____________________________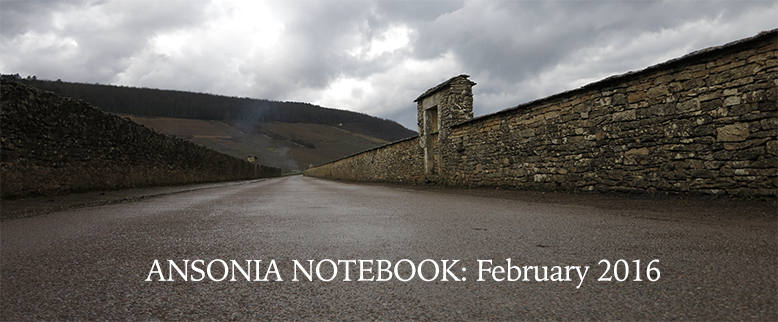 _____________________________
–