As recent temperatures rival the equities markets for precipitousness of decline, the bottles on our dinner table continue to come from more southerly appellations. Cold weather calls for rich wines, usually made in the lower half of France, and from grapes such as Syrah, Grenache and Mourvèdre.
So we've put together a mixed case of dark wintery reds that will keep you warm this winter. Two are from Chateauneuf-du-Pape; grenache based, dark, rich, and intense. The other two are syrah-based, showing spice and black pepper. We recommend pairing all four with a crackling fire, a good book, and a friend to share the bottle. At the table, try a nice cut of grilled or roasted meat.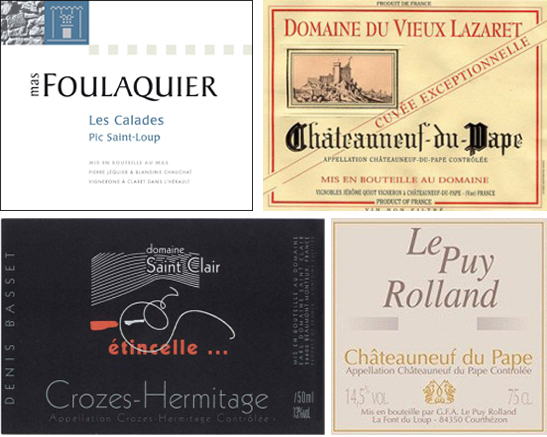 Font du Loup CDP Puy Rolland 2013. The Font du Loup reserves the fruit of the oldest grenache vineyard — over 90 years old — for their finest cuvée, the Puy Rolland. This pure Grenache is an example of the richness and intensity only found in Chateauneuf-du-Pape, and the wine shows silky blueberry jam and cassis. Serve with cassoulet.
Saint-Clair Crozes-Hermitage 2012. Made at the southern end of the northern Rhône, this is a classic, pure syrah wine. The nose shows bacon and black pepper, with dense blackberries and earthiness in the mouth. This is both lively and dense, exhibiting the balance possible from Northern Rhône syrah. Serve with lamb stew.
Foulaquier Calades 2012. Calades is Foulaquier's syrah-based wine, from Pic-St-Loup at the northern end of the Languedoc. Foualquier's natural, biodynamic style matches well with the earthiness of syrah, and this cuvée shows pan drippings and wild raspberry jam. Serve with grilled meats.
Lazaret CDP Cuvée Exceptionelle 2007. Made by an iconic Chateauneuf estate, this wine is a classic. Lazaret's finest cuvée is their "Exceptionelle," and the 2007 was heralded as the best in recent memory. Today the 2007 is dark and silky, showing beautiful fruit and a long, intense mouthfeel. Serve with Boeuf Bourguignon, but remember to try (and marvel at) a glass on its own.
_
MIXED CASE:
FIRESIDE REDS
3x   Font du Loup CDP "Puy Rolland" 13:   $54
3x   Saint Clair Crozes-Hermitage 2012:   $28
3x   Foulaquier Calades 2012:   $32
3x   Lazaret CDP "Cuvée Exceptionelle" 07:   $54
_______________________
Ansonia Retail: $504
mixed case price: $395/case

(free East Coast shipping)   |   save $109
_ 
_
–
– _
_____________________________
Sign up to receive these posts in your inbox:

__
_____________________________

_ 
_____________________________
–