Ubiquitous.  For a universally crowd-pleasing red, it's hard to beat Côtes du Rhône. Guests with New World leanings will appreciate the richness and full flavor. Those with Old World inclinations will appreciate the balance and traditional style. (Your great aunt who likes drugstore merlot might turn up her nose, but you weren't going to please her anyway.)
Most of our Rhône Valley vignerons make a Côtes du Rhône alongside their other wines, and the Domaine les Goubert is no exception. Well known for their Gigondas and Gigondas "Cuvée Florence," Goubert's star continues to rise as the family's 30-something daughter Florence Cartier takes over more winemaking responsibilities. Goubert's wine has always been good, but with Florence at the helm it seems to get better every year.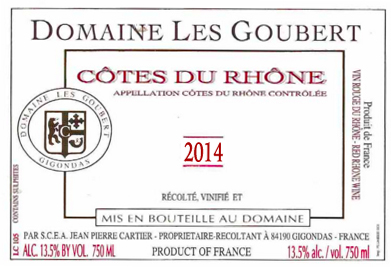 Rules.  We think a Côtes du Rhône should be three things: inexpensive, dark, and balanced. Goubert's Côtes du Rhône fits this description nicely. It's low in alcohol, which keeps it fresh and lively on the palate. The blend of six grapes — Terret Noir, Picpoul, and Vaccarèse join the familiar Grenache, Syrah, and Carignan — forms a rich, hearty, dark wine. And finally, a Côtes du Rhône should be inexpensive enough to pull out at a moment's notice: at $12/bot, this is a wine to enjoy without planning.
It's a by-the-glass wine for your kitchen, something to enjoy during the preparation and enjoyment of a meal. Goubert's Côtes du Rhône is very expressive, showing dark wild cherries, raspberries, and a hint of minerality. The mouth is both jammy and refreshing, with notes of white pepper, licorice, and plums.
Serve this with anything from hamburgers to our favorite pasta: oil, garlic, red pepper flakes, and ample grated parmesan.
________________________

GOUBERT Côtes du Rhône 2014
Ansonia Retail: $15
half-case price: $12.95/bot
case-price: $11.95/bot


_
AVAILABLE IN 6-  AND 12-  BOTTLE LOTS
_
or call Tom: (617) 249-3657
_
_
_____________________________
Sign up to receive these posts in your inbox:

_
_____________________________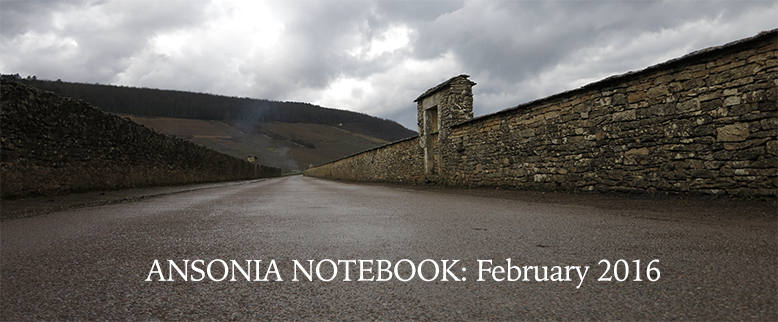 _____________________________
–