Some wines are meant for occasions — wines you've picked out specially, on which you've spent a bit extra, and for which you're waiting until the perfect moment. With Burgundy representing half of our portfolio, we have no shortage of these back-of-the-cellar bottles.
But it would be a shame to drink wine only on special occasions. We try hard to import a range of wines, some for significant moments, but others to pair with a quick meal after work on a weeknight. This mixed case is just that — everyday red wines all under $20, from four regions around France.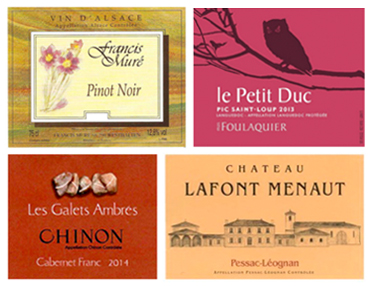 .
.
Foulaquier Petit Duc 12. This majority Grenache wine comes from the biodynamically-minded producers at the Mas Foulaquier in the south of France. It shows beautiful, silky cherry fruit, with an earthy nose and a soft, complex mouthfeel. Pair with grilled chicken or pasta.
Demois Chinon VV 14. Fabien Demois makes pure Cabernet Franc wines from Chinon, in the heart of the Loire Valley. His old vines provide excellent intensity, and this wine shows dark, lively cranberry fruit, with graphite and earth in the nose. Pair with goat cheese on crackers.
Muré Pinot Noir 14. One of our only Pinot Noirs from outside Burgundy, this Alsatian Pinot Noir is pure and clean, with excellent ripe fruit, a floral nose, and a delicious mouthfeel that's energetic but smooth and relatively low tannin. Pair with soups or vegetable dishes.
Lafont Menaut Pessac-Leognan 13. This classic Bordeaux is a blend of merlot, cabernet sauvignon, and cabernet franc. The nose shows plum jam and currants, and the young, structured mouthfeel opens beautifully after 20 minutes in a glass. Serve with steak.
_
MIXED CASE:
WEEKNIGHT REDS
3x   Foulaquier Petit Duc 12:   $28
3x   Demois Chinon 14:   $24
3x   Muré Pinot Noir 14:   $24
3x   Lafont-Menaut rouge 13:   $25
_______________________
Ansonia Retail: $303
mixed case price: $235/case

(free East Coast shipping)   |   save $68
_ 
_
–
– _
_____________________________
Sign up to receive these posts in your inbox:

__
_____________________________

_ 
_____________________________
–