The Other "B."  Burgundy is at the heart of our portfolio. Most domaines in Burgundy are small and family run, just like Ansonia. But we always like to have a few wines around from the other "B." Bordeaux presents a larger scale of operation — it's about 10 times the size of Burgundy — and also a wealth of grapes, styles, and delicious wines.
We've collected four reds into this Bordeaux Sampler — two from the left bank, two from the right; all blends of Merlot, Cabernet Franc, and Cabernet Sauvignon. Some reds from Bordeaux drink well young, and the Lafont-Menaut, Lehoul, and Montlisse are already lovely. Others age magnificently, and we've included a 12 year old Saint-Emilion Grand Cru Classé to show just what proper cellaring and a bit of patience can do.
We serve Burgundy with nearly everything, but if there are pepper-crusted steaks in your future, it's best to have some Bordeaux around.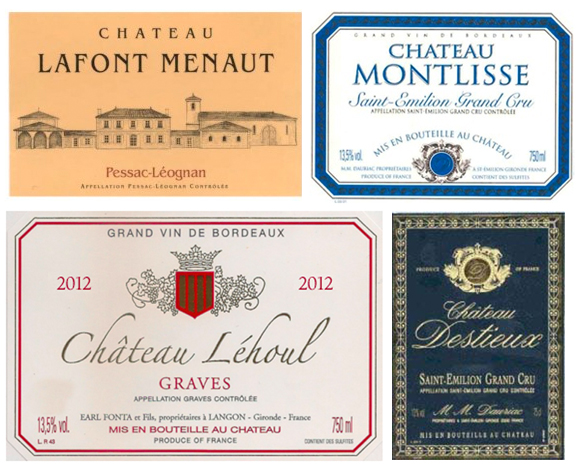 LAFONT Pessac-Leognan 2013
This Merlot-Cabernet Sauvignon blend comes from the same owner as the Chateau Carbonnieux. The wine shows dark, briary notes of blackberry and currant, with the Merlot adding dense notes of plum jam.
LÉHOUL Graves 2012
This small property turns out excellent wine each year, but 2012 is the best in recent memory. The Merlot-Cabernet Franc blend shows dark chocolate, and toast; the tannins are round and fine, showing blackcurrant and cedar.
MONTLISSE Saint Emilion Grand Cru 2010
From an exceptional vintage, this 2010 Saint-Emilion Grand Cru has many years in its future. But with conservative oaking and ripe fruits, it's already delicious. Look for a dense, meaty texture, showing notes of ripe plums, cassis, and cedar.
DESTIEUX Saint-Emilion Grand Cru Classé 2004
Now a dozen years since its harvest, this wine has added the secondary aromas that make older Bordeaux so enticing. The nose shows roasted cherry jam with earth and bay leaf; the mouth is smooth and long and velvety, showing pure softened fruit and a beautifully balanced texture.
_
MIXED CASE:
RED BORDEAUX SAMPLER
3x   LAFONT-MENAUT Pessac-Leognan 13:   $25
3x   LÉHOUL Graves rouge 2012:   $28
3x   MONTLISSE St-Emilion Grand Cru 2010:   $38
3x   DESTIEUX St-Emilion Gr. Cru Classé 04:   $64
_______________________
Ansonia Retail: $465
mixed case price: $395/case

(free East Coast shipping)   |   save $70
_ 
_
–
– _
_____________________________
Sign up to receive these posts in your inbox:

__
_____________________________
–