Alchemy.  Time can have an extraordinary effect on a bottle of wine. Not all wines are meant to age, and indeed the world's style continues to shift towards early maturity. But for wines that are designed to be cellared, the transformation by bottle aging is nothing short of magic.
The Domaine Pierre Bourée builds wines for the long haul. Where many Burgundian winemakers destem their grapes for softer tannins and earlier maturity, Bourée uses only ambient yeasts, and ferments whole clusters for several days, allowing tannins from the skins to soak fully into the juice. It's an old-school style, rare in an era where patience is in short supply.
Lucky for us, Bourée has supplied the patience. Today's wine is a 15 year old Santenay 1er cru — a wine built for aging, which also happens to be perfectly aged. It hasn't moved from the domaine since it was bottled, save for a quick one-way trip to Boston a few months ago.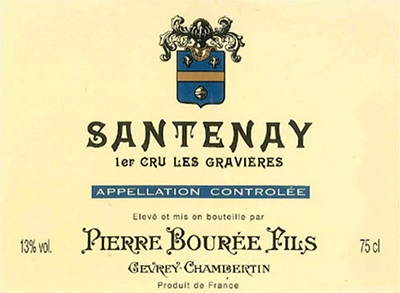 Sous-bois.  We tasted a lot of young Pinot Noir in the last few weeks — the next few vintages from Burgundy will be excellent and relatively approachable young. But it's nice to remember what patience and proper cellaring can achieve. Bourée's 2001 Santenay 1er cru "Gravières" is complex and delicious after its decade-plus of quiet repose; a glimpse back into a older style from a slower time.
The 01 Gravières is elegant and beautiful, with delicate, softened tannins and an enchanting bouquet. The nose shows toasted cherries, dried roses, and a classic old-Pinot earthiness. The mouth is smooth and full, showing dried prunes, mushrooms, and underbrush. Pick a Sunday afternoon, open a bottle of this Santenay, put a fine roast in the oven, and remember that some things are worth waiting for.
________________________

BOURÉE Santenay 1er cru "Gravières" 2001
Ansonia Retail: $50
case, half-case: $42/bot


_
AVAILABLE IN   6-   AND  12-   BOTTLE LOTS
_
or call Tom: (617) 249-3657
_
_
_____________________________
Sign up to receive these posts in your inbox:

_
________________________

Terms of sale. Ansonia Wines MA sells wine to individual consumers who are 21 or more years of age, for personal consumption and not for resale.  All sales are completed and title passes to purchasers in Massachusetts.  Ansonia Wines MA arranges for shipping on behalf of its customers upon request and where applicable laws permit.