Old School.  The organic wine movement is alive and well in France. Every year we see more producers transitioning to organic winemaking, or at least making steps in that direction. Some have been at it longer than others, but no one boasts a longer history than our newest source in Châteauneuf-du-Pape: the domaine Pierre André — organic for 35 years, and biodynamic for 24.
The Andrés' long experience with low-intervention winemaking is evident. They own neither a destemmer nor a filter, and believe in painstaking and meticulous vineyard work. "Wines are made first in the fields," Jacqueline André explained to us in June. "No matter how good a chef you are, if your ingredients aren't perfect, there's only so much you can do."
The final element that makes André's wines so exceptional is the age of their vines. The domaine's vines average more than 75 years old, and yield wines with remarkable density. One particular plot of mourvèdre — planted in the sandy soils next to the famous Rayas — contains vines over 140 years old.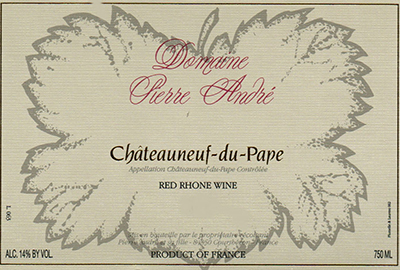 Polished.  Like many of the best small-scale Chateauneuf-du-Pape domaines, André makes only two wines — a white and a red. With no luxury cuvée or reserve bottling, all of their finest grapes go into every bottle. We're excited to release our first André wine today — the 2012 Châteauneuf-du-Pape rouge.
Châteauneuf-du-Pape is always a long-lived wine, but André's 2012 rouge is a treat even now. The nose shows stone fruit jam, with browned butter, lavender, and cedar. The mouth shows prune and black raspberry, with intense licorice and wild cherry on the very long finish. The wine is classically rich and long, but expertly balanced with a cool earthiness that keeps it fresh.
Decant this for a half hour, or keep it in your cellar for a half-decade. Either way, this is magnificent wine, made with precision, history, and care.
________________________

ANDRÉ Châteauneuf-du-Pape 2012
Retail Price: $60
quarter-case: $48/bot


_
AVAILABLE IN   3-    6-    AND   12-  BOTTLE LOTS
_
or call Tom: (617) 249-3657
_
_
_____________________________
Sign up to receive these posts in your inbox:

_
________________________


________________________

Terms of sale. Ansonia Wines MA sells wine to individual consumers who are 21 or more years of age, for personal consumption and not for resale.  All sales are completed and title passes to purchasers in Massachusetts.  Ansonia Wines MA arranges for shipping on behalf of its customers upon request and where applicable laws permit.