Approachable.  Burgundy can be a difficult region for budding wine enthusiasts. Confusing classifications, high entry fees, and finicky grapes can make it a tough region to crack. But to those looking for a good place to start, we can think of no better one than the Domaine Roger Belland.
Belland's wines are, put simply, highly drinkable. His whites are rich and fresh, his reds are juicy and pleasant. They can be complex and ageworthy, but are always approachable and delicious in their youth. Last week we released Belland's Santenay 1er cru blanc, a mouthfilling, lively white Burgundy with exceptional balance. Today we're releasing its twin in red.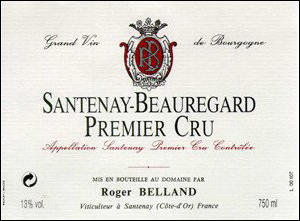 Jubliant.  Belland's Santenay 1er cru Beauregard rouge from 2014 is a delight. The nose is classic Belland, with bright red fruits, spring flowers, and intense berries. The mouth is punchy and dense, with attractive, juicy tannins and palate bursting with raspberry and wild cherries. This opens beautifully over an hour or two, and was already wowing visitors to our warehouse tasting two weeks ago.
This is unpretentious, classic red Burgundy — a wine that requires neither patience nor a second mortgage. For Burgundy lovers, this is a silky, elegant, fruit forward red that won't break the bank. For those looking to begin exploring this legendary region, here's a great place to start the trip.
________________________

BELLAND Santenay 1er "Beauregard" rouge 2014
Retail Price: $40
quarter-case: $35/bot


_
AVAILABLE IN   3-    6-    AND   12-  BOTTLE LOTS
_
or call Tom: (617) 249-3657
_
_
_____________________________
Sign up to receive these posts in your inbox:

_
________________________


________________________

Terms of sale. Ansonia Wines MA sells wine to individual consumers who are 21 or more years of age, for personal consumption and not for resale.  All sales are completed and title passes to purchasers in Massachusetts.  Ansonia Wines MA arranges for shipping on behalf of its customers upon request and where applicable laws permit.