Hidden.  We find some of our favorite values in towns just off the beaten path. The neighbor villages of Chassagne-Montrachet and Puligny-Montrachet are the world's best known sources for fine white wine. But just two miles to the west lies the often-overlooked town of Saint-Aubin, which turns out to be an exceptional source for value in white Burgundy.
The Thomas family has an intimate knowledge of the terroir of St-Aubin, where they've lived and made wine for over 70 years. Together with his two daughters, Gérard makes understated, highly affordable wines that are consistently delicious. And in a vintage like 2014, they rival the wines of more famous towns.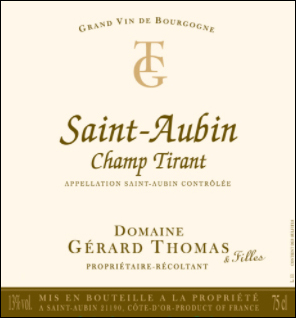 Elegant.  The 2014 St-Aubin "Champ Tirant" is a pure expression of a single, limited terroir. This still young wine is already drinking well; the youthful acidity melts beautifully into the smooth mouthfeel. The nose shows delicate yellow fruits and muted toasty notes like baked lemon and almond. The mouth shows enough freshness to help pair it beautifully with food, but enough richness and stuffing to make it drink like a far pricier wine.
Food pairings for white Burgundy are easy. According to Sommelier Rajat Parr, who calls St-Aubin a source "for some of the best-value Chardonnay in the world," white Burgundy pairs best "with oilier and meatier poached fish like halibut, salmon, monkfish, cod and grouper." Monkfish is a particular favorite at our house, particularly Thomas Keller's Roasted Monkfish with butter and rosemary.
Aside from fish, we also love this with whole roasted chicken. Cook the bird with rosemary, lemon, and garlic, and enjoy the smells from the kitchen as they meld into the aromas from the glass.
________________________

THOMAS St-Aubin 2014
Ansonia Retail: $34
case, half-case: $29/bot


_
AVAILABLE IN   6-  AND  12-  BOTTLE LOTS
_
Email Tom to place an order.
or call Tom: (617) 249-3657
_
_
_____________________________
Sign up to receive these posts in your inbox:

_
_____________________________

_____________________________
Terms of sale. Ansonia Wines MA sells wine to individual consumers who are 21 or more years of age, for personal consumption and not for resale.  All sales are completed and title passes to purchasers in Massachusetts.  Ansonia Wines MA arranges for shipping on behalf of its customers upon request and where applicable laws permit.