Stretching a mere thirty-two miles, Burgundy's Côte d'Or is responsible for finest Chardonnay and Pinot Noir in the world. From only two grape varietals, the winemakers of Burgundy produce an astounding range of expression. Every town has its own identity and style; each is part of a tradition of winemaking that stretches back nearly a thousand years.
For this case we've chosen six of our favorite Burgundian towns — Chassagne-Montrachet, Puligny-Montrachet, Vosne-Romanée, Chambolle-Musigny, Morey-St-Denis, and Gevrey Chambertin — and collected some of our favorite wines from each. It's an example of the extraordinary variety possible from only two grapes planted on this famous stretch of land.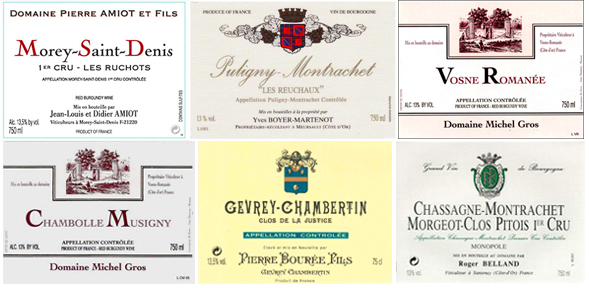 BELLAND Chassagne-Montrachet 1er cru Morgeot "Clos Pitois" 2014
Roger Belland's premier cru Chassagne-Montrachet is unusually lush and aromatic. The wine's exotic bouquet leaps from the glass, with notes of pear, hazelnut, and baked lemon. Grown in a monopole vineyard first planted in 1421, this is classic and delicious Chassagne-Montrachet.
BOYER-MARTENOT Puligny-Montrachet 2014
From one of the finest vintages for white Burgundy in recent years, Vincent Boyer's Puligny-Montrachet "Reuchaux" is elegance in a glass. Look for graceful notes of mineral and lime rind, alongside a mouth of honeysuckle and white flowers.
GROS Vosne-Romanée 2011
From a master winemaker, this is a classic Vosne. The nose shows the unique, spice and violets. The mouth is dense and pure, with beautifully silky tannins that show the elegance possible from a perfect marriage of grape and place.
AMIOT Morey-St-Denis 1er "Ruchots" 2012
Brothers Jean-Louis and Didier Amiot craft rich, lively Burgundies in a style that combines traditional earthiness with modern extraction. Look for notes of smoky cherries and charcoal in the nose; in the mouth find briary blackberry jam.
GROS Chambolle-Musigny 2011
Michel Gros's village level Chambolle-Musigny drinks more like a premier cru, with the majority of the grapes coming from a plot adjoining the famous Grand Cru Musigny. Look for meaty notes of underbrush and raspberries, and a rich and supremely silky mouth.
BOURÉE Gevrey-Chambertin "Justice" 2011
From a village monopole where a guillotine once stood, this is exceptional wine in an old school style. The nose shows a collection of dark, stewed fruits, dried cranberries, cloves, and baked apple. The mouth is surprisingly smooth, with a softened palate that remains long and tense.
________________________

_
BEST OF BURGUNDY
2x   BELLAND Chassagne-Montrachet 1er 14:   $78
2x   BOYER Puligny-Montrachet 2014:   $64
2x   GROS Vosne-Romanée 2011: $72
2x   AMIOT Morey-St-Denis 1er 2012:   $85
2x   GROS Chambolle-Musigny 2011: $74
2x  BOURÉE Gevrey-Chambertin 2011:   $78
Ansonia Retail: $902
offer price: $725/case

free East Coast shipping    |    save $177
_ 
_
–
– _
_____________________________
Sign up to receive these posts in your inbox:

_
________________________


________________________

Terms of sale. Ansonia Wines MA sells wine to individual consumers who are 21 or more years of age, for personal consumption and not for resale.  All sales are completed and title passes to purchasers in Massachusetts.  Ansonia Wines MA arranges for shipping on behalf of its customers upon request and where applicable laws permit.