Balance. For winemakers in Burgundy, finding enough sun is a perennial concern. An unusually rainy year like 2016 can make ripening difficult. In the Languedoc, France's southernmost region, the concern is just the opposite: how to harvest grapes with enough acidity to preserve freshness.
It makes sense, then, that our favorite Languedoc wines often come from high-elevation zones, where cool breezes help encourage freshness. The best wines of the Languedoc are a careful balance between sundrenched Southern ripeness and refreshing minerality acidity. The Clos Bagatelle in the hills of Saint-Chinian walks the line between richness and energy as well as any domaine we know.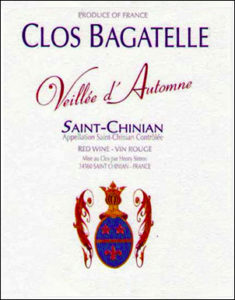 Richness.  Located high in the schist-laden hills of the central Languedoc, the Clos Bagatelle is a centuries-old domaine making classic syrah-based southern reds. Today we're suggesting their "Veillée d'Automne," a smooth, meaty syrah blend that also includes carignan and cinsault. The nose is ripe and clean, showing plums and dark fruits; the mouth is chewy and dense, with a hint of toast and a crisp mineral line that balances the ripe fruit.
With winter weather on the way we're reaching more and more for wines from the South. This is meaty, rich red wine that will warm you up as well as a crackling fire. Serve this with a beef stew, roasted vegetables, or a cassoulet; it's also sure to make friends on your Thanksgiving table in a few weeks.
________________________

BAGATELLE St-Chinian "Veillée d'Automne" 13
Ansonia Retail: $24
case, half-case: $18/bot


_
AVAILABLE IN   6-  AND  12-  BOTTLE LOTS
_
Email Tom to place an order.
or call Tom: (617) 249-3657
_
NOTE: If it's variety you're after, consider our Wintery Reds mixed case for Thanksgiving, which includes this wine and 3 others.
_
_____________________________
Sign up to receive these posts in your inbox:

_
_____________________________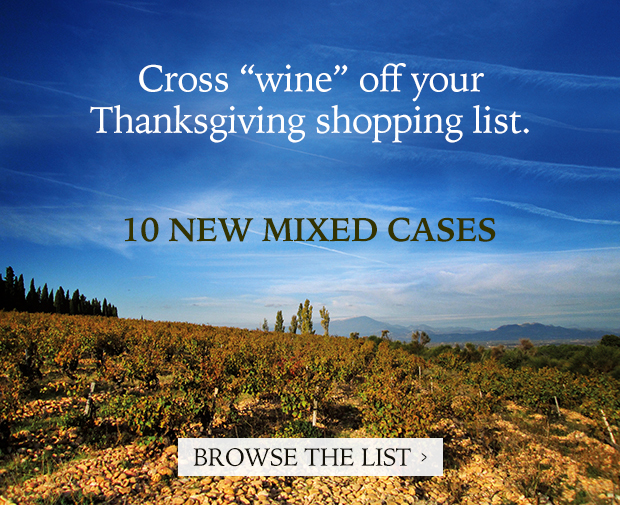 _____________________________
Terms of sale. Ansonia Wines MA sells wine to individual consumers who are 21 or more years of age, for personal consumption and not for resale.  All sales are completed and title passes to purchasers in Massachusetts.  Ansonia Wines MA arranges for shipping on behalf of its customers upon request and where applicable laws permit.