Land.  Spend even a few days tasting Burgundy, and the power of terroir is hard to miss. From a single grape, planted across a 30 mile collection of towns, comes an astonishing array of wines. Cellar work, weather, harvest times, and other factors play a role in the final product, but in Burgundy, location (terroir) is king.
Volnay and Pommard are a particularly good study in terroir. These neighbors feature opposing takes on Pinot Noir: Volnay is known for wines of elegance, Pommard for wines of power. Some Burgundy enthusiasts prefer one over the other — we like them both. But for those who'd rather not choose, today's wine is a Pommard dressed in Volnay robes.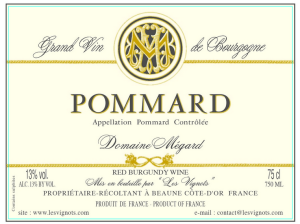 Continuum.  And as you approach the border, the differences between the towns blur a bit, and it's from this gray area that today's wine comes. From three plots in the appellation of Pommard, vines from near the Volnay border dominate this wine. The nose is pretty and exotic, with soy sauce and spices alongside the classic raspberry fruit. The mouth shows dry blackberries, with elegant, delicate, long mouthfeel.
Every bottle of this wine we open gets better. Though it will certainly benefit from another few years of cellaring, today half an hour in a carafe dramatically softens the tannins and opens the palate. Paired with a simply prepared peppery steak, this is a delightful glass of classic Burgundy. Try a bottle every six months for the next few years — it might even age better than you do.
________________________

MEGARD Pommard 2013
Ansonia Retail: $50
3+ bottle price : $42/bot

_e
AVAILABLE IN   3-   6-   AND  12-   BOTTLE LOTS
Email Tom to place an order.
or call Tom: (617) 249-3657
_
_
_____________________________
Sign up to receive these posts in your inbox:

_.
_____________________________
Terms of sale. Ansonia Wines MA sells wine to individual consumers who are 21 or more years of age, for personal consumption and not for resale.  All sales are completed and title passes to purchasers in Massachusetts.  Ansonia Wines MA arranges for shipping on behalf of its customers upon request and where applicable laws permit.