Micro.  We don't import much Bordeaux. We've always taken more readily to the scale and culture of Burgundy, where the estates are much smaller and the atmosphere less formal. But it's no secret that Bordeaux makes some extraordinary wines, and we like having some in our portfolio.
We're hoping to add a few new reds from Bordeaux in the next few months, but in the meantime we continue to enjoy our first and only Saint-Estèphe, the Fleuron de Liot. From a remarkably small 1.5 acre plot, this family run winery turns out an exceptional, classic red Bordeaux. It's equal parts Merlot and Cabernet Sauvignon.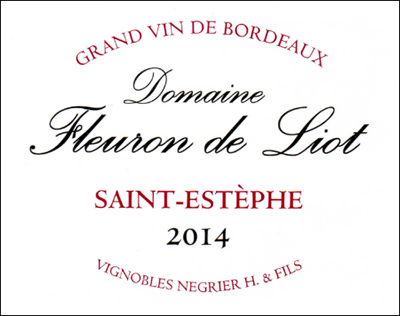 Value.  Saint-Estèphe's clay-rich soils make it perfect for Merlot, and this wine showcases the richness and complexity possible from the grape. At under $30/bot, precise timing isn't crucial for a satisfying return on investment — but this wine is delicious now and will be even better in five years.
Today this wine is inky and dark, with plum and dark cherries in the nose. The mouth is dense and full, with solid ripe tannins and low oak, notes of cedar and licorice, and a long, velvety texture. The tannins are rich, dense and supple, rather than harsh or dry.
One thing common to Bordeaux and Burgundy is their ability to gain complexity with age. For this wine at least, the choice is yours. Every bottle we open seems to get better, but then again, every bottle we open is one fewer in the cellar. Whichever you choose, we're willing to bet you will wish you had more.
________________________

FLEURON DE LIOT Saint-Estèphe 2014
Ansonia Retail: $35
6+ bottle price : $29/bot

_e
AVAILABLE IN   6-   AND  12-   BOTTLE LOTS
Email Tom to place an order.
or call Tom: (617) 249-3657
_
_
_____________________________
Sign up to receive these posts in your inbox:

_.
_____________________________
Terms of sale. Ansonia Wines MA sells wine to individual consumers who are 21 or more years of age, for personal consumption and not for resale.  All sales are completed and title passes to purchasers in Massachusetts.  Ansonia Wines MA arranges for shipping on behalf of its customers upon request and where applicable laws permit.