Vintages play an important role in the style of wine. Each vintage has its own character, a result of weather patterns, harvest dates, and temperature swings. Some are difficult, requiring regular intervention to from the winemaker. Others are easy, where everything seems to go right.
For white Burgundies, 2014 was one of the best vintages in recent memory. It produced exceptionally well-balanced wines, showing good richness and ripe fruit, but also refreshing acidity and long mouthfeels. British Master of Wine Jasper Morris called the 2014 white Burgundies "the most consistently fine in a generation."
We have collected four white Burgundies from this superb vintage into a mixed case. All these Chardonnays are drinking beautifully now, but their acidity will help carry them for a number of years.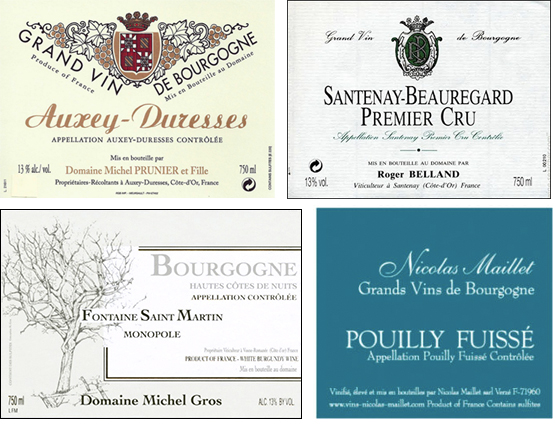 Gros Hautes-Côtes de Nuits blanc 2014
Michel Gros is a master of red Burgundies, but his only white wine is beautiful as well. Grown in the rugged hills to the west of the Côte de Nuits, this smooth, rich white Burgundy shows notes of baked lemon, almonds, and hazelnut.
Prunier Auxey-Duresses 2014
Michel Prunier and his daughter Estelle make understated, beautiful Burgundies from their quiet town of Auxey-Duresses. Their 2014 Auxey blanc is among the best they've made, showing pretty white flowers, lemon zest, and straw.
Maillet Pouilly-Fuissé 2014
Nicolas Maillet is our biodynamic producer in southern Burgundy, turning out chardonnays of extraordinary complexity and depth. His Pouilly-Fuissé is long and very complex, with notes of green tea, sweet lemons, and gardenia.
Belland Santenay 1er cru 2014
In good years Roger Belland's Santenay 1er cru drinks more like a village level Chassagne-Montrachet. This year's Beauregard is simply delicious, with a soft but vibrant mouthfeel of mango, meyer lemon, and minerals.
________________________

_
2014 WHITE BURGUNDIES
3x   Gros Hautes-Côtes de Nuits blanc  14:   $40
3x   Prunier Auxey-Duresses  2014:   $38
3x   Maillet Pouilly-Fuissé  2014:   $40
3x   Belland Santenay 1er cru  2014:   $42
Ansonia Retail: $480
offer price: $395/case

free East Coast shipping    |    save $85
_ 
_
–
– _
_____________________________
Sign up to receive these posts in your inbox:

_.
_____________________________
Terms of sale. Ansonia Wines MA sells wine to individual consumers who are 21 or more years of age, for personal consumption and not for resale.  All sales are completed and title passes to purchasers in Massachusetts.  Ansonia Wines MA arranges for shipping on behalf of its customers upon request and where applicable laws permit.