Easy.  Our focus on Burgundy means we taste a lot of Pinot Noir. From simple regional wines to ageworthy Grand Cru, the spectrum of that single grape is impressive. But a few of our Pinot Noirs come from outside even Burgundy's wide range. Though it's grown all over France, our favorite non-Burgundian expressions of the grape are Alsatian.
In the Alsace, Pinot Noir takes on a less serious role — simpler, juicier, and more floral. Winemakers here usually employ less oak and less extraction, resulting in wines that drink well immediately . Though the Pinot Noir's of Alsace rarely reach the profundity of the finest wines of Burgundy, on a warm summer afternoon it's hard to think of a better choice.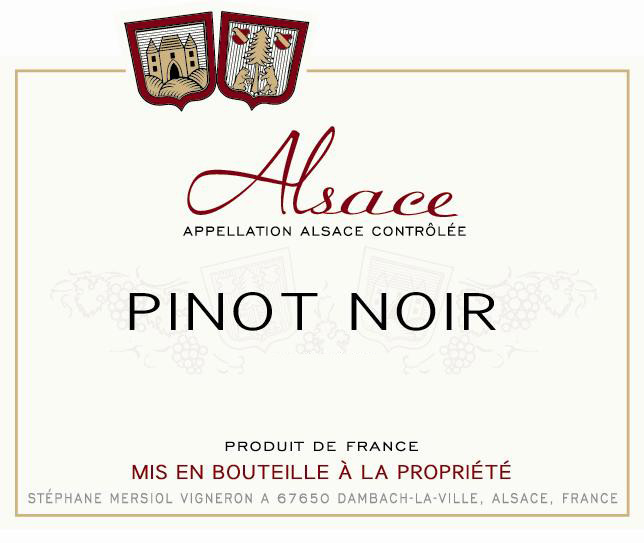 Picnic.  Today's wine comes from the Domaine Mersiol, a family source in the picturesque Alsatian hilltown of Dambach-la-Ville. The Mersiols farm organically on rolling, granite-flecked hillsides, producing crisp whites and refreshing juicy reds. Their 2015 Pinot Noir is denser and a bit more mouthfilling than usual, but no less pleasant.
The 2015 Mersiol Pinot Noir shows cranberry and wild cherries, with perfumed spring flowers and violets in the nose. The mouth is cool, clean, and refreshing, with excellent freshness and a crisp, lively finish. We like to serve it as the French often do — a bit cool and, if possible, outside. Bring it along on your next picnic and you'll be transported to the banks of the Seine.
________________________

MERSIOL Pinot Noir 2015
Ansonia Retail: $20
6+ bottle price : $16/bot

_e
AVAILABLE IN   6-   AND  12-   BOTTLE LOTS
Email Tom to place an order.
or call Tom: (617) 249-3657
_
_
_____________________________
Sign up to receive these posts in your inbox:

_.
_____________________________
Terms of sale. Ansonia Wines MA sells wine to individual consumers who are 21 or more years of age, for personal consumption and not for resale.  All sales are completed and title passes to purchasers in Massachusetts.  Ansonia Wines MA arranges for shipping on behalf of its customers upon request and where applicable laws permit.