Opportunity.  There has been no shortage of ink spilled about the 2015 red Burgundies, and indeed the praise is warranted. But it might mean that 2014, a truly excellent vintage, won't receive nearly enough hype. We are stocking up on 2014s, and we encourage fellow Burgundy enthusiasts to do the same.
Today's 2014 comes the Domaine Pierre Amiot in Morey-St-Denis. Amiot's style has shifted in recent years, and they've begun to make wines that drink better earlier. We're not the only ones to notice — the scores have gone up and availability has gone down. The 2014s still have a long life ahead of them, but with a few years under their belt, many are enjoyable today.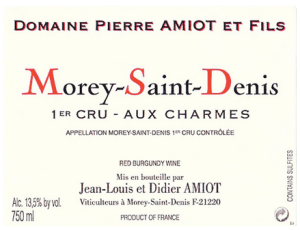 Micro.  The 2014 Amiot Morey-St-Denis 1er cru "Aux Charmes" is indeed charming. Large volume wine this is not — Amiot's plot is just one acre, and their vines planted in 1967 produce only 200 cases per year. But the quality is exceptional. Charmes is usually the first of Amiot's premier crus to drink well, and the 2014 follows this pattern. Today it's woodsy, sappy, and firm, but with a delicate silkiness and underlying stony complexity already beginning to show through.
Wine critic Burghound (Allen Meadows) awarded 89-91 points, calling it "wonderfully textured, even seductive," and "really quite pretty." His notes include "dark berry fruits" and "earth," and he predicts it should be approachable young."
If you have cellar space, we'd suggest trying one today (decant for 30-45 min), and then leaving the rest for a while. You won't be sorry you did.
________________________

AMIOT Morey-St-Denis 1er cru "aux Charmes" 2014
Ansonia Retail: $80
3+ bottle price : $69/bot
FREE EAST COAST SHIPPING ON ANY 12 BOTTLES