We do lots of grilling in the summer. For nice cuts of meat we suggest fancier red Burgundies or Bordeaux — something complex to sit with and enjoy slowly. But for simpler fare — burgers, shish kabob, vegetables, chicken, steak tips, etc — we like reds that aren't too complicated.
This sampler includes four reds we like to serve with food from the grill. They're dark and meaty to match the smoky flavors, but refreshing and well balanced. All four can be served a bit cool, and all drink well on their own too.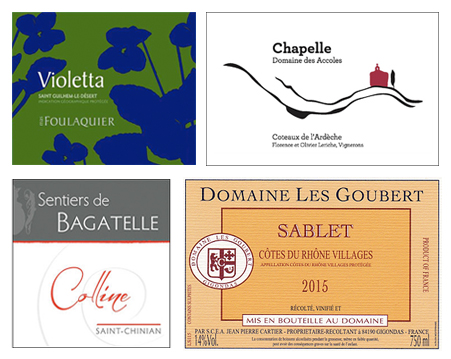 Bagatelle Colline 2015
A grenache-based red from the Languedoc. It's cool and refreshing, with dense cherry fruit and ripe, juicy tannins.
Goubert Sablet 2015
A blend of several grapes from the Southern Rhône. It's smooth and woodsy, with jammy notes alongside plums and lavender.
Accoles Chapelle 2014
A blend of grapes from the Ardèche. This is earthy and rugged, with a refined mouthfeel showing blackberries and black pepper.
Foulaquier Violetta 2015
A grenache/syrah/carignan blend from Languedoc. This is easy drinking and fruit-forward, with an earthy finish and dark briary notes.
________________________

Mixed Case: Summer Reds for the Grill
Ansonia Retail: $261
offer price : $195/case



FREE EAST COAST SHIPPING