Balance. Europe has been unusually hot this summer. Though the south of France is no stranger to summer heat, the country's continental climate is important in helping its wines achieve balance. Overripe grapes contain too much sugar and too little acid, which boosts alcohol levels and flattens the palate.
All of which makes us awfully glad to have the Clos Bagatelle in our portfolio. Located in the bright, sunny Languedoc, Bagatelle's wines nevertheless achieve a consistent balance, year after year. Today we're releasing their newest cuvée "Au Fil de Soi" — it's a reboot of their popular Veillée d'Automne, a delicious, vibrant wine with notes of lavender and roasted blackberry.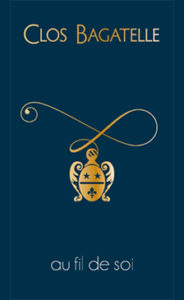 Blackberry. Clos Bagatelle is a centuries-old domaine in St. Chinian, a mountainous section of the northwestern Languedoc. The secrets to achieving balance are schist-laden soils and higher elevation, which protect the wines from over-ripeness and high alcohol. The result is a concentrated wine with rich, dark tannins, but one that isn't overly heavy.
The 2015 St-Chinian "Au Fil de Soi" is cool and delightful — at 13.5% alcohol it's balanced, and at $22 it's a bargain. The blend of Syrah, Grenache, Mourvèdre and Carignan shows blueberry pie and earth in the nose. The mouth is long and full, with smooth tannins and notes of lavender, thyme, honey, and pepper.
Serve this a bit cooler than room temperature — it should match food from the grill with ease.
________________________

Bagatelle "Au Fil de Soi" 2015
Ansonia Retail: $26
6+ bottle price : $22/bot


FREE EAST COAST SHIPPING