Sancerre gets most of the Sauvignon Blanc attention in the Loire Valley. But in fact the upper Loire has many excellent sources for the grape. Our favorites from the less well-known towns is Pouilly-Fumé. Located just across the Loire river from Sancerre, Pouilly-Fumé can be just as good as its famous neighbor.
A few years ago we discovered an excellent small scale source on the Pouilly-Fumé side of the river. Frederic Michot farms a plot of Sauvignon Blanc vines planted in the 1940s, producing an unusually pure and concentrated Pouilly-Fumé. He raises the wine exclusively in stainless steel, and the result is unoaked, smooth, and simply delicious.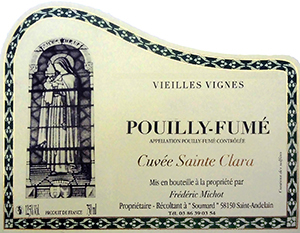 Our readers thoroughly enjoyed the 2014 and 2015 vintages of this wine, and we're pleased to report the 2016 is just as good (if not better). The nose shows mango, grapefruit rind, and straw; the mouth shows ripe grapefruit, lime rind, and honey. The wine is at once mouthfilling and electric, with a persistence of richness and freshness found in finest Sancerre.
Grilled shrimp, pan seared scallops, broiled haddock, steamed Maine lobster — these will all form a harmonious and delightful match with this wine. Or if fruits de mer aren't your thing, try a glass with another product of the Loire Valley — goat cheese on a crusty piece of French bread.
________________________
Michot Pouilly-Fumé Vieilles Vignes 2016
Ansonia Retail: $26
6+ bottle price : $22/bot


FREE EAST COAST SHIPPING ON ANY 12 BOTTLES