The most important thing to know about a wine from Burgundy is the location of the vines, but knowing the winemaker is a close second. We've had disappointing bottles from famous Grand Crus and brilliant wines from lesser terroirs. Often a highly skilled producer can create unusually good wine from humble origins.
A case in point is the Hautes-Côtes de Nuits rouge from Michel Gros. Gros is a world class winemaker who brings his remarkable talent to every vineyard he works; and his wines from the Hautes-Côtes de Nuits are every bit as well made as his fanciest Vosne-Romanée.
Gros's 2014 HCDN has just arrived in our warehouse, and it's a delight. Classic, smooth, earthy red Burgundy from an excellent year and a phenomenal producer.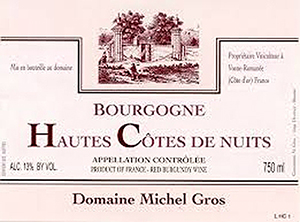 The Hautes-Côtes de Nuits are a patchwork of vineyards in the hills just west of the famous Côte d'Or. The land is 100 meters higher and ripens about a week later — but with rising temperatures and aging vines, this wine gets better each year. It's near the bottom of Gros's impressive lineup in terms of price and prestige, but it shows the results of meticulous winemaking and excellent terroir.
This wine is classic Michel Gros — it combines an earthy, toasty palate with an effortlessly silky mouthfeel. The nose shows plum, baked strawberry, licorice, and earth. The mouth is long and elegant, but with great density and persistence. Burghound (Allen Meadows) found it "rich and fleshy," citing "dark currants and floral hints." It should age nicely for another few years, but after you open your first bottle you'll have a hard time aging any at all.
When the moment calls for Burgundy but you don't want to pony up for Chambolle-Musigny, here's a great option at less than half the price.
____________________________
Michel Gros Hautes-Côtes de Nuits 2014
Ansonia Retail: $40
6+ bottle price : $34/bot


FREE EAST COAST SHIPPING ON ANY 12 BOTTLES