St. Aubin is the insider's white Burgundy. For years we've pointed our friends and customers here for remarkable values. We are not alone – author/sommelier Rajat Parr writes that "it produces some of the best-value Chardonnays in the world." Jancis Robinson recently wrote that though once passed over for its more famous neighbors Chassagne-Montrachet and Puligny Montrachet, St-Aubin "should now be regarded as virtually their equal."
The Thomas family has an intimate knowledge of the terroir of St. Aubin — they've lived and made wine here for over 70 years. Thomas's village-level St. Aubin "Champ Tirant" is a recent discovery, and among the better values in our cellar. We always struggle to keep it in stock, and in another short year liked 2016, we fear this won't be around for long.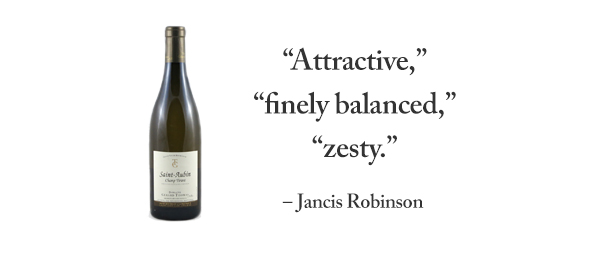 We love to find wines that are a pure expression of their terroir, and Champ Tirant is a perfect example. Wedged between the towns of Puligny-Montrachet and Chassagne-Montrachet, St. Aubin produces wines similar to its more famous neighbors, but with far smaller price tags.
2016 brought difficulties to many winemakers in the Côte de Beaune. Hail and frost reduced the Thomas family's crop, but the quality of what remained is excellent. The vintage stands in contrast to 2015's ripe, mouthfilling style — the 2016s are closer to the 2014s, where freshness, purity, and long tension-filled palates are the norm.
Thomas's 2016 St. Aubin shows gorgeous round fruit and muted toasty notes. It's long and elegant, with plenty of young fruit — but there's an impressive burst of freshness, making it perfect for food. Jancis Robinson called it "attractive," "finely balanced," and "zesty." With spring nearly here, this is a charming glass of white Burgundy, perfect as the weather warms.
____________________________
Thomas St-Aubin 2016
Ansonia Retail: $40
6+ bottle price : $35/bot


FREE EAST COAST SHIPPING ON ANY 12 BOTTLES