"Natural" wines can be hard to get right, but when they're good they can be extraordinary. The wines of the Mas Foulaquier are undoubtedly the finest and most consistent biodynamic reds in our portfolio. The cuvées are exceptionally clean and well formed, marrying ripe fruit with earthy notes from their rugged terroir.
Foulaquier's philosophy is simple: as little intervention as possible between vineyard and bottle. Their vineyards are "Demeter" certified, the highest level of organic agriculture in the EU. In the cellar, the winemakers use only ambient yeasts, avoid fining and filtering, and add minimal sulfites and only at bottling.
The result is wines that perfectly express their hardy terroir. "Natural" wines can show personality in any climate; but in the untamed Languedoc they're particularly expressive.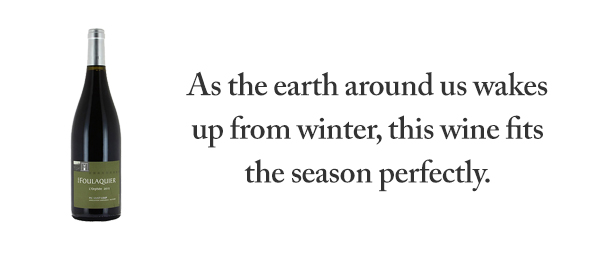 Our newest cuvée from Foulaquier has just arrived in the warehouse: the 2015 Orphée is a 50/50 blend of Grenache and Syrah. Like the vineyards from which it comes, this wine is full of life. The nose is cool and fresh, showing berries, bay leaf, violets, and earth. The mouth is dark and beautifully textured, with softened tannins and notes of cassis, roses, and spice. This is easy to like and hard to put down.
At the moment this wine is a perfect cocktail party quaffer — smooth and complete on its own, balanced enough that it needs no food. As the earth around us wakes up from winter, this wine fits the season perfectly. With dark berries and earthy flavors jumping from the glass, you can close your eyes and imagine that spring is really here.
____________________________
Foulaquier Orphée 2015
Ansonia Retail: $30
6+ bottle price : $25/bot


FREE EAST COAST SHIPPING ON ANY 12 BOTTLES